Tom Yum Soup
Tom Yum is a world-famous Thai dish that has a full flavour that is sour, salty, spicy and slightly sweet.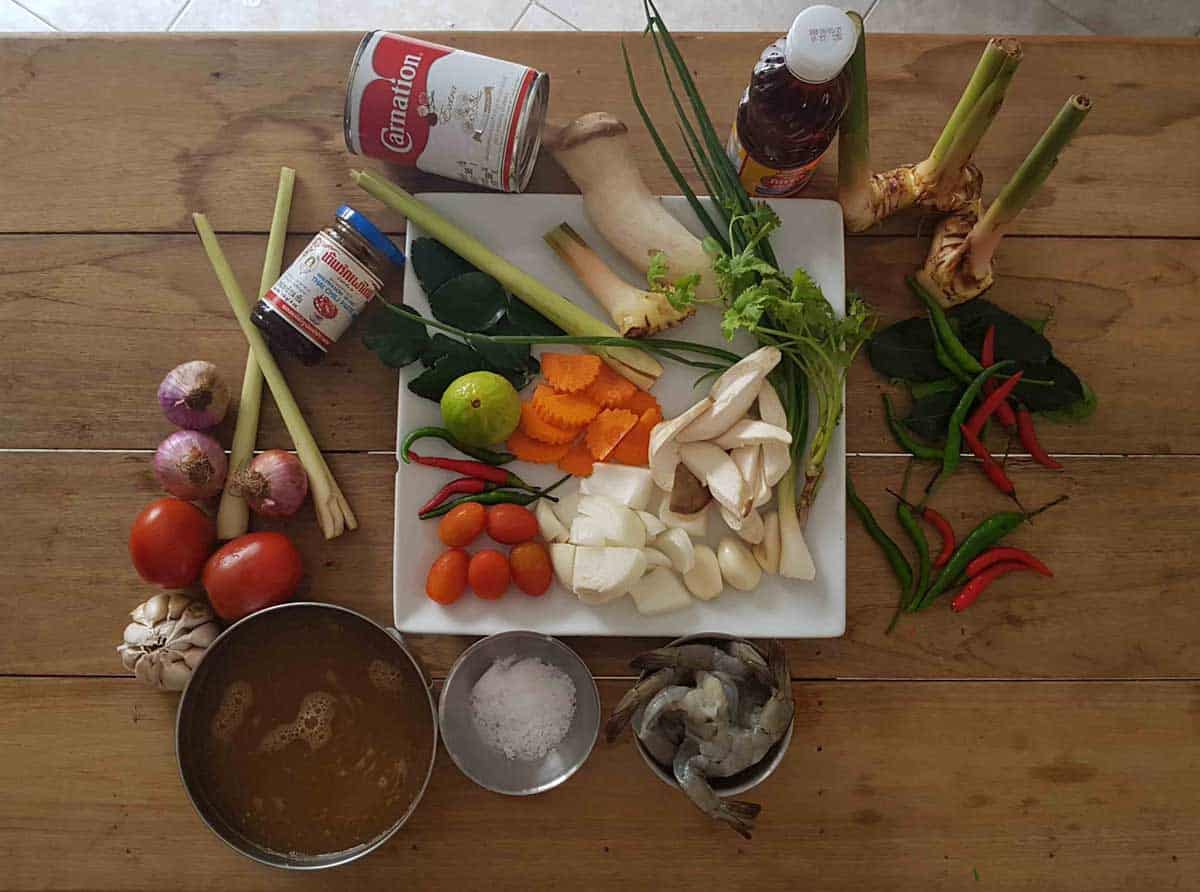 There are 2 types of Tom Yum.
Tom Yum (clear water) is the original recipe of Tom Yum. In the past was often cooked without milk or coconut milk and often simply cooked with water in.
The main ingredients were meat such as frogs, snakehead fish, chicken, shrimp etc. and the main spices are lemongrass, kaffir lime leaves, chillies, both fresh
and dried galangal.
Tom Yum Nam Kham (thick soup) is understood to be the original version of

Tom Yum. But in truth, it's just a development from Tom Yum clear water. This is because beginning during the reign of King Rama 6 during his visit to the Sam Yan neighbourhood there were some Chinese people that made tom yum goong with milk as thick water and he liked it and it took off from there.
Tom Yum is a Thai hot and sour soup that is prepared with lemon grass, kaffir lime leaves, galangal, shrimp paste (or crab paste), palm sugar, fish sauce, lime juice and fresh or canned tomatoes. Tom Yum can also be made with vegetarian ingredients such as mushrooms or spinach to provide a similar texture to meat.
The history of Tom Yum Soup
There are many stories and myths as to how Tom Yum first came to be, but none are universally agreed upon. Tom Yum has existed since at least the 14th century, and in one particular legend, the story goes that a Thai boatman on his way to trade in China had a boiled hot pot of soup with ingredients such as lemongrass, kaffir lime leaves, galangal and shrimp paste. When he returned to Thailand, he prepared the soup for his family and friends as a treat.
Alternatively, the historian Giles Milton contends that the origins of Tom Yum can be traced back to India, where there is a variation of hot and sour shrimp soup known as "sour prawn soup." The soup is often made with lemongrass, kaffir lime leaves, galangal and shrimp paste according to Milton. A third iteration is that Tom Yum was created during the reign of King Rama V (1824 – 1849) whose own chef invented the dish. The recipe was found in an old notebook which was thought to be written by one of Rama V's chief cooks who was originally from China.
The dish is commonly found throughout Thailand and it is one of the most popular soups because of its strength as a meal. A regular serving of Tom Yum can contain up to 20% seafood ingredients (commonly shrimp) which makes it an attractive option for people who enjoy seafood. The soup has been used as one of Thailand's national dishes for over 40 years since it was added to the list by King Bhumibol Adulyadej in 1956. It has also been used as an unofficial symbol for Thailand because of its origins and popularity.
Tom Yum soup is most popular in Thailand and it can be found in many restaurants throughout the country. The soup can be served at any time of day and it is often served with rice noodles. The dish is often consumed in Thailand as part of many traditional ceremonies, and it is often enjoyed alongside other dishes such as fried chicken or pad Thai. A typical serving of Tom Yum is around 400-500ml, and it is served either in bowls or cups. The soup is often served with lemongrass that is cut in very thin pieces or even grated to add texture to the dish. Tom Yum is typically a spicy soup with a strong flavour, but the amount of chilli used in the dish varies depending on personal preferences.
Tom Yum has an unrivalled taste and it has been eaten by tourists for many years because of its diversity as a meal. A flavorful dish that gives off a strong sour taste, the soup tends to change depending on the amount of chilli added to the dish. It has been exported from Thailand to Australia, Japan, Malaysia, Korea, Laos, Singapore, Taiwan, Hong Kong, Indonesia, and more since the 1970s. The dish is often consumed with shrimp paste or crab paste, but there are vegetarian alternatives to these ingredients available if preferred.
Tom Yum is well-known for being served in restaurants, street stalls and food courts in Thailand, which makes it a very accessible dish to try. The soup is popular because it has different versions from its main region which were created due to the influence of westerners when they visited Thailand. The westerners introduced the Thai people to their own versions of Tom Yum, and the ingredients were added to what was already present in the dish. Tourists should not hesitate to try this famous dish as it is easy to find in most places in Thailand. The best place to try Tom Yum is at any restaurant where it is made- as each will have a different variation!
The soup is now served in many different countries as well and is one of the more popular and well-known Thai specialities. It can be eaten with rice noodles or prawn crackers, which are often served on either side of the dish. Rice can also be served alongside the soup, but it is not essential for the dish to be consumed. Tom Yum can also be served with seafood or chicken, and this adds a different taste to the soup. The unique taste of Tom Yum is perfect for people who enjoy seafood, sour tanginess, and spiciness, and because of its popularity, it is sure to always be a hit!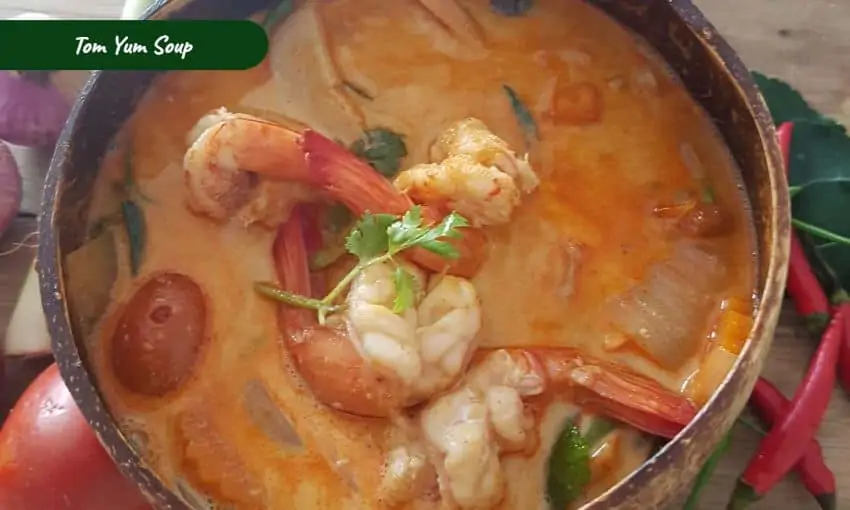 Ingredients you will need if you are taking an online class
● Prawns (Chicken/Tofu)
● Slices of galangal
● Lemongrass (cut into pieces)
● Kaffir lime leaves
● 1 Red onion or white onion
● Garlic (as much like you like)
● Vegetables (mushrooms, carrot, baby corn,
tomatoes or cherry tomatoes)
● Spring onion long cut 1 inch
● Coriander or parsley (for garnishing)
● Prawn stock or vegetable stock
● Fish sauce few drops (not needed if you don't like the smell)
● Milk (Milk product for cooking and bakery) this one only when you want to do Tom Yum thick soup.
● Chillies chopped
● Lime
● Salt
● Sugar