Parawan's Thai cooking classes on Koh Tao
Hi I'm Parawan and I live on Koh Tao and teach my Thai cooking classes at my home on Koh Tao, which is the next island along from Koh Phangan in the Koh Samui archipelago and I'd love for you to come and take a Thai cooking course with me either here or online.
I'm originally from the northeast of Thailand in Kalasin, I studied and worked in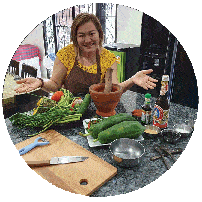 Bangkok before moving down to Koh Tao over 10 years ago where I live with my family.
I love Thai food and I love cooking, but until recently I hadn't run my own cooking school, although I did help a friend of mine out here with their Koh Tao Thai cooking class teaching her cooking lessons when she was busy or was away on holidays. I really enjoyed teaching people how to cook authentic Thai food like Pad Thai, Spring rolls and their favorite Thai curries like Massaman curry, Green curry or Phanaeng curry also know as Panang curry and so decided to open my own Thai cooking class.
I opened my Thai cooking school and started teaching people to cook Thai food here in my kitchen on Ko Tao in September 2019 with small groups with a maximum of 4 people in a class as there really wasn't the space in my kitchen to teach cooking courses for more people than that.

In March 2020 I finished converting the roof space of my house into a purpose-built area for my Thai cooking classes where I can comfortably be able to teach up to 7 or 8 people each with their own prep area and cooking station as you can see in the picture.
Thai Cooking Classes on Ko Tao
When you come to take a cooking class with me you will learn to make three different dishes. We can also offer vegetarian or vegan cooking classes, that's no problem as almost all of the dishes can be made as vegetarian or vegan options, just let me know in advance and I can ensure that you have the required ingredients. If you also have any allergies then just let me know and I can adjust recipes accordingly.
You can see the different Thai food options that are available to cook on the Thai Cooking Course Menu page.

As well as my standard cooking courses that you can book into and whoever books in first for a particular class gets to pick the menu for the whole class to make I do also offer the option to book in private classes here on Koh Tao.
Online Thai Cooking Classes
You can also take an online Thai cooking course with me and for that, all you need to have is a device with a camera, be it a computer, laptop, tablet or even a smartphone to use. I have two cameras set up here so that you can see me preparing each dish and another camera so you can see me as I am explaining to you what to do as I am doing it. You can see more details by clicking on the following link about the online Thai Cooking Classes I offer or via the main menu.
I hope to see you soon to learn to cook some of your favorite Thai foods here at my Thai home cooking class on Koh Tao, if you have any questions or would like to book in then contact me either via the WhatsApp or Messenger links on this page or via the contact page and I'll be happy to help.