Parawan's Thai Home Cooking Classes on Koh Tao
This email address is being protected from spambots. You need JavaScript enabled to view it.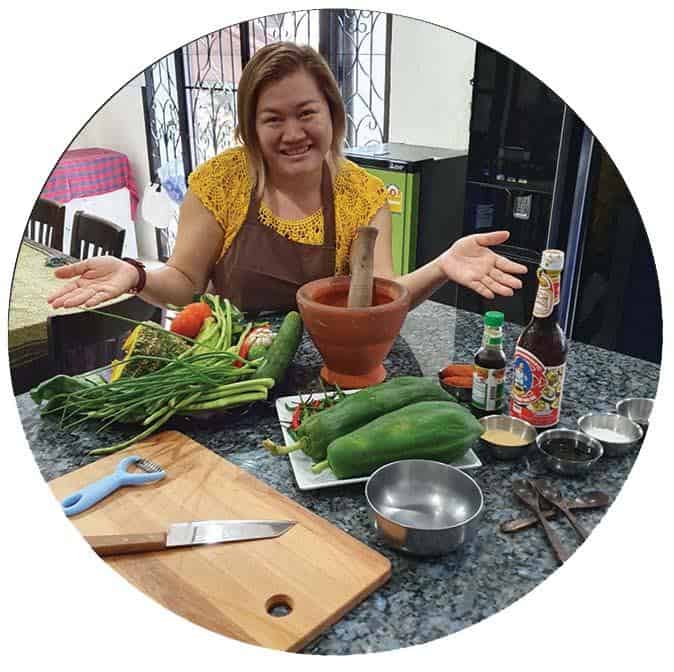 I'm Parawan, I'm a friendly fun person with an appreciation of not just Thai food culture but am interested in learning different cooking techniques and passing on my culinary skills to my cooking apprentices. I teach my group and private classes at my home in Koh Tao as well as offer virtual cooking classes where you can learn to cook your favourite Thai dishes in private lessons in your own one on one online class.
I'm originally from the northeast of Thailand in Kalasin, I studied and worked in Bangkok before moving down to Koh Tao over 10 years ago where I live with my family.
I love Thai food and I love cooking, I discovered my love for teaching people to make Thai food here whilst helping a friend with their cooking classes on Koh Tao. I realised that I really enjoyed teaching people how to cook authentic Thai food in a friendly atmosphere. I also will tell you how you can recreate these dishes at home and let you know which are essential ingredients and which ones can be omitted or substituted if you can't source all of the fresh ingredients. So I decided to open my own Thai cooking school and do something that I loved doing and now I don't feel like I'm going to work anymore.
I teach my Thai cooking classes on Koh Tao, which is the next island along from Koh Phangan in the Koh Samui archipelago. If you're on Ko Tao, I'd love it if you came to take a Thai cooking experience with me. I'll share my lifetime of experience and cooking methods with you at my home Thai Cooking School. If you aren't coming to Koh Tao then but still would like to enhance your cooking skills and make your favourite spicy dishes, then I do also offer online Thai cooking classes so you can take those from your own home.
Thai Dish Menu options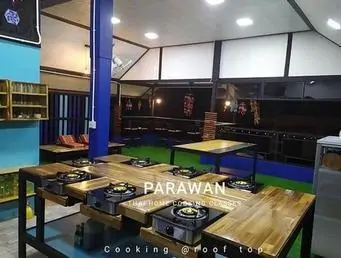 When I first opened my Thai cooking school and started teaching people how to make their favourite Thai foods, I started off just using the kitchen in my house. This meant that I could only really teach small groups of people, usually just one or two people at a time with a maximum of four people in a class, as there really wasn't the space in my kitchen to teach cooking courses for more people than that.
So I then decided to convert the roof space of my house into a purpose-built area for my Thai cooking classes on Ko Tao. Here I can comfortably teach up to 6 people in a class, with each person having their own prep area and cooking station as you can see in the picture (click it to enlarge).
So if you would like to take a cooking lesson and learn how to make Pad Thai, Spring Rolls, Tom Yum Soup, Thai Green Curry, Massaman Curry, Panaeng Curry, Red Curry and of course how to make your own Thai curry paste from scratch or any of your favourite delicious Thai foods then book a lesson either online or in person.
Thai Cooking Courses on Ko Tao
When you come to take a Thai cooking class on Koh Tao with me you will learn to make three different dishes. All of the dishes can be made as
vegetarian or vegan
options in my cooking classes, and most can be made as
pescatarian options
. Just let me know in advance and I can ensure that you have the required ingredients. If you also have any allergies then just let me know and I can adjust recipes accordingly.
You can see the different Thai food dish options that are available to cook on the
Cooking Course Menu
page
For my group/standard Thai cooking class on Koh Tao when you book in whoever books in first for a particular class gets to pick the menu for the whole class to make. When you enquire you can check if the menu for a particular class has already been set and if it has and it's not what you wanted to make then you can see when there is a class that doesn't have the menu set yet available. Below are upcoming classes which already have the menus set so you can see what we'll be cooking.
I do also offer the option to book a private cooking class on Koh Tao too which guarantees you will get to choose the menu.
Pick your class and book below