Miss your favorite Thai food? I offer online virtual Thai Cooking Classes

I love eating Thai food and teaching people how to cook Thai food too. Unfortunately, the Coronavirus has meant that it has been difficult for a lot of people to come to visit my beautiful country since the end of March 2020. It's looking as though people will be able to start coming to Thailand again over the next few months, but still many people may not be able to come over to take a cooking class with me hereat my cooking school on Koh Tao. If you are missing the spicy flavours of Thai cuisine, not to worry I offer people the option to also take an online virtual Thai cooking class with me from their own home. These online virtual cook-along Thai cooking classes are private classes where I will be your chef cooking the same dish as you so I can guide you through how to make each of the Thai dishes no matter what your cooking skills level is. If you want to have a few friends round to cook together and then enjoy what you have cooked that is no problem.

Luckily for people who are here in Thailand, they aren't having to go without their favourite Thai street foods or Massaman Curry
.
I'm sure there are lots of people who are missing their fix of authentic Thai food who were planning on visiting Thailand this year
. You can learn to make your own Padi Thai, Spring Rolls, or Thai curry including the curry paste plus lots more. So treat yourself and sign up for an online Thai Cooking Class with me from your home.
So how does taking online virtual cooking classes work?
Well, it's unlikely you'll be able to sign up and start your online Thai cooking class straight away as there is a little more planning that we'll need to do.

First I suggest contacting me to let me know that you are interested in taking a Thai cooking class online so that we can make arrangements to take an online class. You can do this either by email, the WhatsApp or Messenger links on my website.

You can also check my availability calendar for courses online here.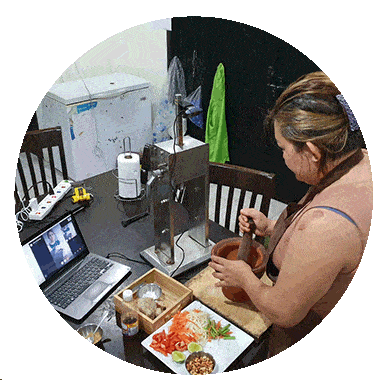 Then we can arrange a time for your virtual Thai cooking course that works well for both yourself and me. As there is likely to be a time difference between your country and here.

Then you will also need to decide on your favourite Thai food dishes that you would like to learn to make on the online Thai cooking course.
This is an important step so that we can check to make sure the ingredients that you need for particular Thai dishes you can get before the course. Some people may not be able to get all of the Thai ingredients. If this is the case usually, there will be an alternative that can be used. If we find that there is something that you can't get that is vital to the recipe then you can select another dish to make, a good example of this is Ka Pow (Thai Holy Basil Ocimum tenuiflorum) which is the main ingredient for Pad Ka Pow, which is a very popular Basil and Chili dish in Thailand. As this basil is a bit spicy and so trying to substitute it with different basil like sweet basil or Italian basil give the dish a completely different flavour. Most ingredients are fairly easy to source like bell pepper, light soy sauce, dark soy sauce, coconut milk and Jasmine rice. However, some ingredients like fish sauce, oyster sauce, tamarind paste, palm sugar and Thai basil may not be as easy to source depending on the country you live in. The same with the equipment you have available in your kitchen as not everyone may have all of the kitchen utensils like a mortar and pestle, but they may have a food processor which will be needed if you chose to make one of the Thai curries as I will show you how to make the curry paste from scratch. Also if you have any special dietary restrictions for example people who follow a vegetarian or vegan diet or food allergies, for example, peanuts or shellfish.
Before the lesson, we can also arrange a quick test to ensure that the video call link up is working all fine before the class on your laptop, tablet or mobile device

.
I usually use Zoom for my online classes, but there are other options available too, but Zoom seems to work well. I use a set-up with 2 cameras running here so that you can see me and what I cooking.
Then once everything is set and we are all ready for your cooking class then you can pay before we start using PayPal

.
How many people will be on the online Thai Cooking Class?
Your actual online cooking class will be a private lesson between yourself and me.
Which Thai dishes can you cook in your online Thai Cooking Class?
You can select any of the dishes that you can see on the menu page here.
If there is something that you would like to cook that isn't on our menu page then please contact me to see if it is something that I can offer
.
Is the online Thai Cooking lesson live or recorded?
My online cooking experiences are live so you can ask me questions and I can give you tips on cooking techniques, to help you improve your cooking skills as I believe if online experiences aren't live then it's not a proper cooking experience.
How long does an online Thai Cooking Class take?
It usually takes around an hour for each dish that we cook, some take less time and others take longer.
For example, Thai curries usually take longer as you will learn how to make the curry paste before making your curry
. I offer the option to cook either 1, 2 or 3 dishes in a class. If you enjoy the course and the dishes you make you are more than welcome to book more courses later on.
How much does an online Thai cooking class cost?
There are two price options, you can either learn to make one dish for 1,400 baht, two dishes for 2,500 baht or 3 dishes for 3,500 baht.
Other Cooking Class options that I offer
My standard Group Thai Cooking Classes on Koh Tao, is my most popular class and this costs 1,500 baht per person and we make 3 dishes which are picked by the first person to book into the class. I also offer the option to book in for a special 4 dish group cooking class which is 2,000 baht per person.

I do also offer private cooking classes on Koh Tao which can be either for individuals who want to take a one on one class or Groups that want to take a Private Thai Cooking Class on Koh Tao and the prices for these start from 4,500 baht.
If you have any other questions at all then please
contact me
and I'll be happy to help.