Miss your favorite Thai food? I offer online virtual Thai Cooking Classes

I love eating Thai food and teaching people how to cook Thai food too. Unfortunately, the Coronavirus has meant that it has been difficult for a lot of people to come to visit my beautiful country since the end of March 2020. It's looking as though people will be able to start coming to Thailand again over the next few months, but still many people may not be able to come over to take a cooking class with me hereat my cooking school on Koh Tao. If you are missing the spicy flavours of Thai cuisine, not to worry I offer people the option to also take an online virtual Thai cooking class with me from their own home. These online virtual cook-along Thai cooking classes are private classes where I will be your chef cooking the same dish as you so I can guide you through how to make each of the Thai dishes no matter what your cooking skills level is. If you want to have a few friends round to cook together and then enjoy what you have cooked that is no problem.

Luckily for people who are here in Thailand, they aren't having to go without their favourite Thai street foods or Massaman Curry
.
I'm sure there are lots of people who are missing their fix of authentic Thai food who were planning on visiting Thailand this year
. You can learn to make your own Padi Thai, Spring Rolls, or Thai curry including the curry paste plus lots more. So treat yourself and sign up for an online Thai Cooking Class with me from your home.
So how does taking online virtual cooking classes work?
Well, it's unlikely you'll be able to sign up and start your online Thai cooking class straight away as there is a little more planning that we'll need to do.

First I suggest contacting me to let me know that you are interested in taking a Thai cooking class online so that we can make arrangements to take an online class. You can do this either by email, the WhatsApp or Messenger links on my website.

You can also check my availability calendar for courses online here.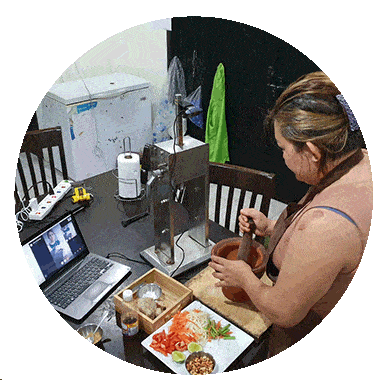 Then we can arrange a time for your virtual Thai cooking course that works well for both yourself and me. As there is likely to be a time difference between your country and here.

Then you will also need to decide on your favourite Thai food dishes that you would like to learn to make on the online Thai cooking course.
'; $i++; } } ?>
'; $i++; } } ?>