Pad See-Ew (Stir-fried Big flat noodles with black soy sauce)
Pad See-Ew (stir fried big flat noodles with black soy sauce) is a popular food in
Thailand. It is a food that is usually a menu of every restaurant that sells stir-fried
noodles. The cooking style is similar to fried noodles, but with sweet black soy sauce
added and using kale as base ingredient.
The noodles that are usually used are the big flat rice noodles. The popular meat used
are chicken or pork and eggs are also often included. Seasoned with soy sauce,
sugar, fish sauce and stir in a high heat pan. The general flavour of fried noodles is
sweet and sour with dried chilli an optional extra for those who like spice.
Parawan's Thai Home cooking classes with show you an easy step by step method to
cook at home.
Ingredients

•Method
Mash the big flat noodles with the black soy sauce all over mix

well, set aside.
Heat a frying pan with vegetable oil. Add garlic and stir fry until fragrant. Add meat or tofu (vegetarian) and stir-fry

until cooked.
Add some hard vegetables (carrot and baby corn)

cooked well then add eggs in. (if you no have any
hard vegetables just add eggs in) mix well.
Add big flat noodle that has been mixed. Season with granulated sugar, soy sauce, oyster sauce, stir fry together.

Add kale stir all the ingredients together. When everything cooked add some black pepper in scoop them into a serving
container.
Ps. Pad see ew will taste sweet and smell of soy sauce. For Vegan and vegetarian change meat to tofu or just add more vegetables.
Card title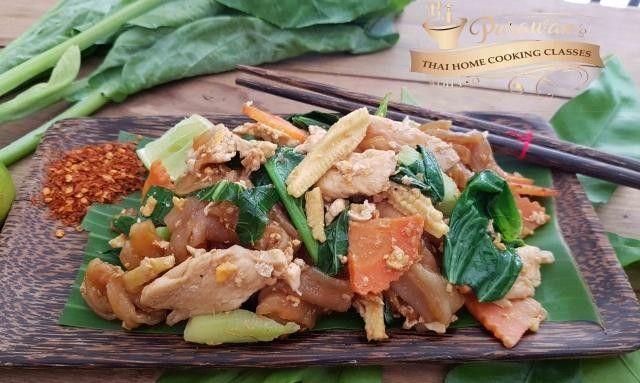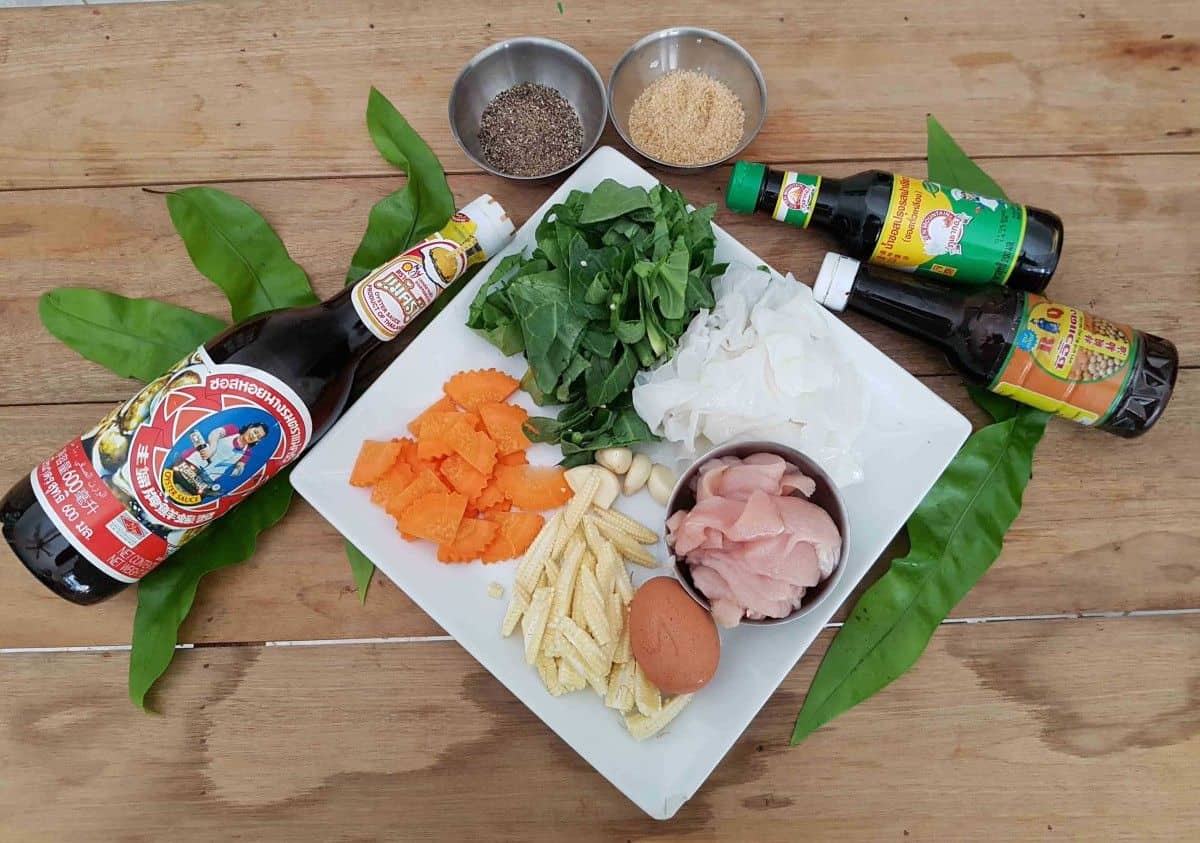 Ingredients List
● 100 g Meat (Chicken, pork, prawn) or tofu for vegetarian
● 1 egg
● Big flat noodles
● Kale : Chinese kale
● Vegetables you like (carrot, baby corn)
● 2 cloves garlic crushed
● 1 Tbsp cooking Oil
● 2 tsp sugar
● 1 tsp Dark soy sauce
● 1 tbsp Soy sauce
● 1 tbsp Oyster sauce
● Black pepper