Tom Kha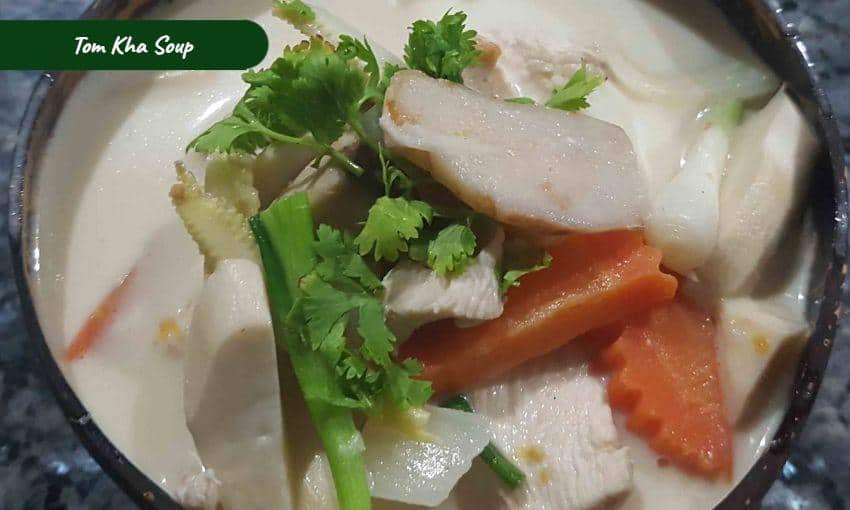 Ingredients you will need if you are taking an online class
● 200 g Chicken breast or Chicken leg (hip, bone attached)
● 250 ml Coconut Milk
● Water to thin the coconut milk
● A few slices galangal
● Lemongrass (cut into pieces around 4-5 pieces)
● Kaffir lime leaves 3-5 leaves
● 1 Red or white onion
● Garlic (much like you like)
● Vegetables (mushrooms, carrot, baby corn, tomatoes or cherry tomatoes)
● Spring onion long cut 1 inch
● Coriander or parsley (for garnishing)
● Lime
● Salt
● Sugar (not needed, depends on your taste if you like it without then you can
leave out)
● Black pepper (again this is optional)
● Fish sauce few drop (if you don't like the smeall then you can leave this out)
Tom Kha Kai is a food that tastes like a non-spicy Tom Yum. The only difference is Tom Kha Kai adds coconut milk. Other ingredients include chicken, young galangal, chilli, lemon and fish sauce. Some recipes include lemongrass as well. Suitable as a side dish because the taste is quite rich The mixture is not complicated and it can also be modified to add shrimp instead of chicken, but Chicken is the most popular option.
Parawan's Thai Home Cooking Classes will show you how to make nice and easy Chicken with coconut soup or Tom Kha Kai that you can cook at your home.
Tom khai kai, also referred to as tom kha or Tom kha gai is Thai coconut soup rich, creamy, and has a tangy and salty taste. This soup is not only filling but also light and bursts with incredible flavor. The best part is that making a tom kha soup is pretty much straightforward, and its recipe calls for several delicious spices giving the soup its authentic characteristics of a mix of hot, umami, and tart flavor. With that said, in this article, I shall be taking you through everything you want to know about tom khai gai soup.
Origin of tom kha kai
Tom kha is said to have originated from Thailand hence its name Thai coconut soup. The earliest recorded variant of tom kha soup was around 1890 in a Thai recipe book that features a coconut milk-base curry along with duck and young galangal known as Tom Kha Pet. The duck was an excellent protein choice, and the recipe consisted of spices giving the soup its unique taste and flavor.
What are the common ingredients of tom kha kai?
You can never prepare a tom kha kai soup without coconut milk, making it one of the significant ingredients in the soup. In addition to that, here are some of the common ingredients for making tom kha gai;
With these ingredients, you prepare an authentic Thai coconut soup. However, the soup also has some variations; for instance, the Thai style of the soup does not entail dill weed. On the other hand, Lao-style soup uses dill weed since it is common in their cuisine.
Is Tom khai kai ideal for vegans and vegetarians?
The answer is no. Tom kha gai soup comprises chicken and fish, which are foods that vegetarians and vegans do not consume. As previously mentioned, tom khai kai feature significant variations, and due to this, there is a new method of preparing vegan/vegetarian-friendly tom khai gai soup.
To make a vegan tom khai gai soup, you will need the following;
Vegetable broth instead of chicken broth.
Soy sauce to substitute fish sauce.
With these main ingredients, preparing a tom khai gai vegan/vegetarian-friendly soup becomes easy.
Is tom khai kai healthy?
Although it bursts with top-notch flavor, is tom khai kai soup healthy? Yes, tom khai is surprisingly healthy. It is rich in essential minerals that are good for your well-being. This soup is also ideal for individuals practicing a ketogenic diet since it is significantly low in carbohydrates. Furthermore, its low carb concentration makes it safe for use among individuals with diabetes and weight problems.
Final words
Tom khai kha is an excellent soup with various variations that will best suit your needs, from vegans to non-vegan individuals, and preparing the soup is pretty much straightforward. In addition to that, this soup is very healthy, making it ideal for individuals who want to shed excess weight or would love to maintain healthy body weight. With that said, I hope you have found this article beneficial.