Learn How To Make Panang Curry
Panang curry is a curry that is hard-pressed and not spicy. Panang is often flavoured with a sweet taste and doesn't have a lot of vegetables. Usually, it uses only red chilli, sliced long beans and torn kaffir lime leaves or sliced as decoration. Some Panang Curries are made with basil leaves or use ground roasted peanuts to make the curry more intense and rich.

Parawan's Thai Home Cooking Classes will show how to make very tasty and easy to cook Panang curry paste to make Panang curry. Panang curry by Parawan's Thai Home Cooking
Classes will add more vegetables as most people like to be healthy even with curry.
The history of Thai Panang Curry
Thailand is a country with many different dishes to offer. One of the most popular Thai dishes is Panang curry, with its rich layers of flavour. It can be made in many ways and is one of those dishes where you can order it in 10 different restaurants and get 10 variations of the same dish.
"Panang"
The word "Panang" is from the ancient Khmer language that was adopted by the Thai. It means "cross" and mostly refers to sitting cross-legged on the floor. In the old-time, people would cross the chicken's legs and cook the chicken upright instead of open. A dish called "Gai Panang" is made by cooking chicken on a grill.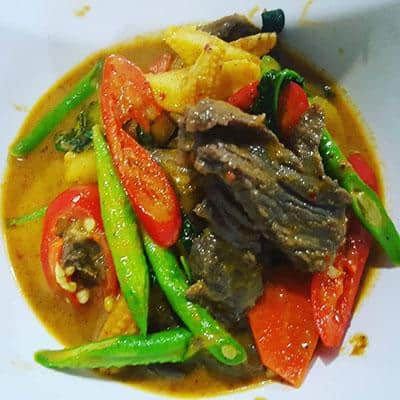 The chicken would be bathed with a curry paste that contains roasted peanuts in it, mixed with coconut cream. This mixture would be brushed over the whole time the chicken was being cooked on the grill.
When finished cooking, this dish is served to guests with small pieces of dried hot peppers on the plate or in the bowl.
If you look up Panang curry on Wikipedia, the information is WRONG. Someone said that Panang curry comes from Penang Island. But someone corrected it, but the person who wants Panang curry to come from Penang Island keeps changing it back in that way. It seems just because the two words sound similar they decided they were the same.
Officially there are Two Versions of Panang Curry:
Kari Phanaeng (ก๋าย ไพ่ เM) is a red curry with more spices than the other one.
Kari Phanaeng Masaman (ก๋าย ไM) is a red curry with fewer spices than the first one.
This is a popular dish in Thailand. You can find it on most restaurant menus. Thai people like to eat this dish with rice or noodles.
Two Different Ways of Cooking Panang Curry
Traditional Panang Curry- is usually slow-cooked, simmered, or stewed. You can add water or the water part of the coconut milk to cook with the meat until it is tender.
Modern Panang Curry- is where you will make the curry paste with no coriander and cumin but keep the roasted peanuts. If you are cooking seafood then cook the curry separately, seasoning it as desired. Then pour it over the cooked seafood before serving.
Good options to pick to make with Panang curry
One of the ingredients that we use when making Chicken Satay is Panang curry paste so also learning how to make Chicken Satay will give you another dish that you can use your Panang curry paste with when you make this dish. Chicken Satay makes an excellent starter or side dish and is great finger food for parties.
How Spicy is the Panang Curry?
Eating spicy food isn't appealing to everyone, but the spiciness is controlled by you as you can decide to add as much or little chilli as you choose. The smell of this curry is amazing. You can make it for friends or family and impress them. There are many recipes for Panang Curry because many different variations of the dish became popular in different areas of Thailand which is great because you can order it in different restaurants and get different variations.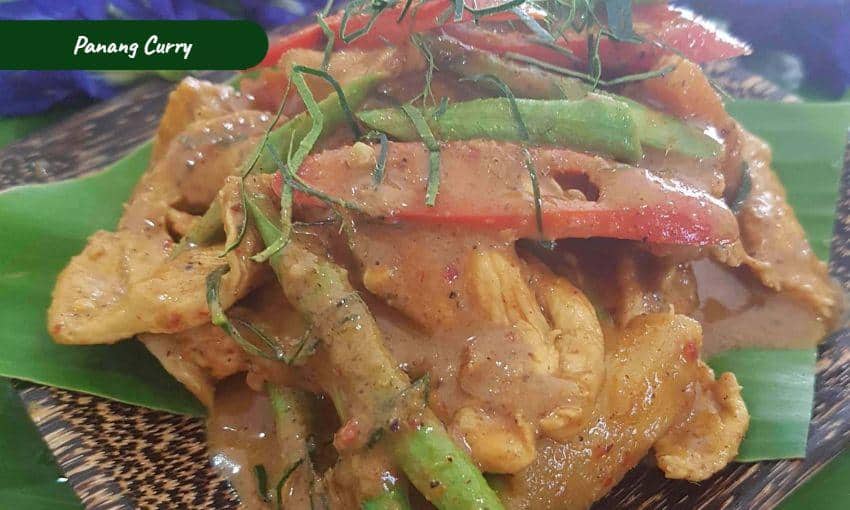 Ingredients you will need if you are taking an online class
● Lemongrass stalks, finely sliced
● Ginger sliced
● Galangal sliced
● Turmeric (Curcuma)
● Shallots, peeled and sliced
● Garlic, peeled and sliced
● Dried red chilies, seeded and soaked to soften
● Dried red peppers, no seeded and soaked to soften
● Sea salt
● Coriander seeds
● Cumin seeds
● Black peppers
● Chicken breast (or Tofu) cut, you can also use another
part of chicken too.
● Pineapple
● Carrots, baby corn and long beans or you can use
other vegetables if you prefer
● Kaffir lime leaves
● Red peppers or can use bell peppers
● Coconut milk and some water
● Fish sauce (Taste before you add in just in case you don't like
the smell of it)
● Salt
● Sugar/ palm sugar
● Oyster sauce
Equipment you will need to have for an online class
You will need either a Mortar & Pestle or a food processor
Frying pan
Knife
pan to make rice/rice cooker
Where is it most popular?

The dish originated in the northern part of Thailand, but it is also popular in the central and southern parts of the country.
In Thai cuisine, it is usually eaten at lunchtime or dinner as an appetizer to balance out the spiciness of other dishes that are served during those times. It can be made using various meats such as beef strip loin steak (phanaeng, แผนเ-), chicken (sateh, ซ-) or shrimp.
It is also found in Malaysian cuisine where it has been adapted to use coconut milk instead of water and heavy cream like Thai cooks do. This adaptation makes the curry redder with a richer taste and texture.
It is sometimes called "Thai curry" or other names to distinguish it from the many types of Malaysian curries, which are also popular in Thailand.
In Western food culture, Panang Curry can be found as a vegetarian option on some restaurant menus and is usually served with Thai jasmine white rice (khao tom koong, ข-เ-).
This dish has become popular around the world because it is not spicy and can be made to suit a variety of tastes.
So if you are a curry lover I do recommend this dish. If you are going to be taking an online class with me I will give you a shopping list before the course and check you have everything you need. These days sourcing the ingredients isn't too much trouble for most people, but 20 years ago you may have struggled to find simple things like cans of coconut milk.