Yum Ta-Krai (Spicy Chicken with Lemongrass and cucumber Salad)
Lemongrass is a Thai herb that is popularly used in cooking and is commonly grown at home. It originates from India, Indonesia, Myanmar, Sri Lanka and Thailand. Lemongrass contains vitamins and minerals that are beneficial to the body, such as vitamin A, calcium, phosphorus, iron, etc.
The Bergamot is also called Kaffir lime. There are also some other different names used in the local area. Bergamot is a small hardwood tree. It has a similar citrus taste to lime, but has a rough outer skin and is very fragrant because there are essential oil glands beneath the skin. Therefore it popular to make the food more fragrant.
Bergamot is a plant in the citrus family originating from Laos, Malaysia and Indonesia. Helps to relieve coughs reduces bruising. Kaffir lime leaves are also rich in beta carotene, which is thought to help slow down the growth of cancer cells.
Parawan's Thai Home cooking class will show you an easy way to cook this food. This dish can be made with tofu or vegetables, other types of meat or seafood and not just chicken. This dish good for light healthy snack.
Ingredients (for 1 or 2 people)
Instructions
Clean the meat and slice so not too thick and marinate the chicken or pork with pin of salt, pepper, sugar and soy sauce put back into refrigerator better leave more than 1 hour. (if you don't like sugar no need to add).
Tofu and seafood you do not need to marinade. Then grill the meat (chicken or pork ) until cooked well then remove from heat.
For lemongrass, cut hard stems + peel off the green shoots first and then wash them thoroughly. Then cut to thin slices. Only keep the white part of the stem. For cucumber peel green skin off, then use peeler to peel lengthways, peel down to the seeds, but don't include the seeds.
Chop all vegetables
Making the Sauce
Sugar, fish sauce and lemon juice mix well until the sugar is dissolved

in the mixture. The taste of the sauce should be a mixture of salty, sour and sweet with an emphasis on sour usually, but you can adjust to the combination to what you like. Then when you like the taste add in garlic, onion and chilli and mix together.
Add Chicken/Tofu cucumber lemongrass Kaffir, mix up well. Taste, if you would prefer more sweet, sour or salty now is the time to adjust the taste.
Add spring onions, mint and pepper if you want to include and nuts (of course if you are allergic to nuts then you can exclude those too).
Mix well in the bowl and then it's ready to serve. This is often served with a side dish of fresh vegetables if made spicy.
Card title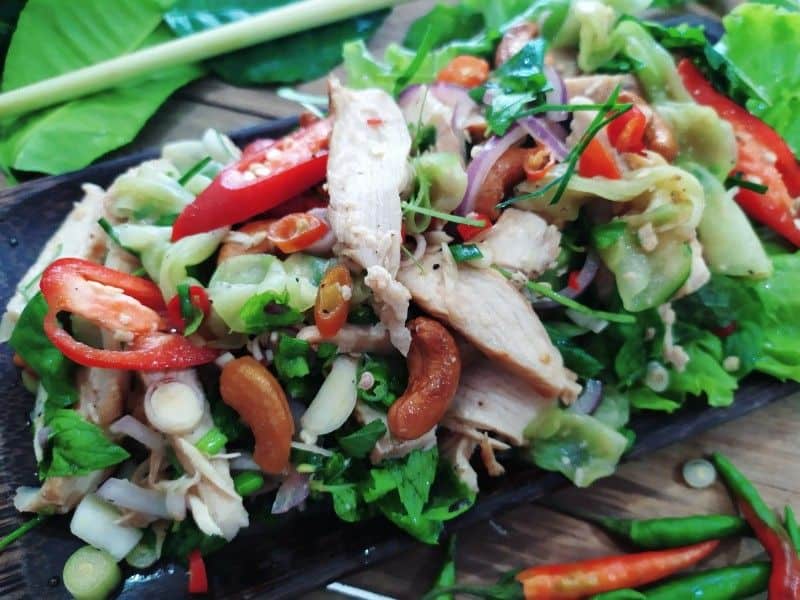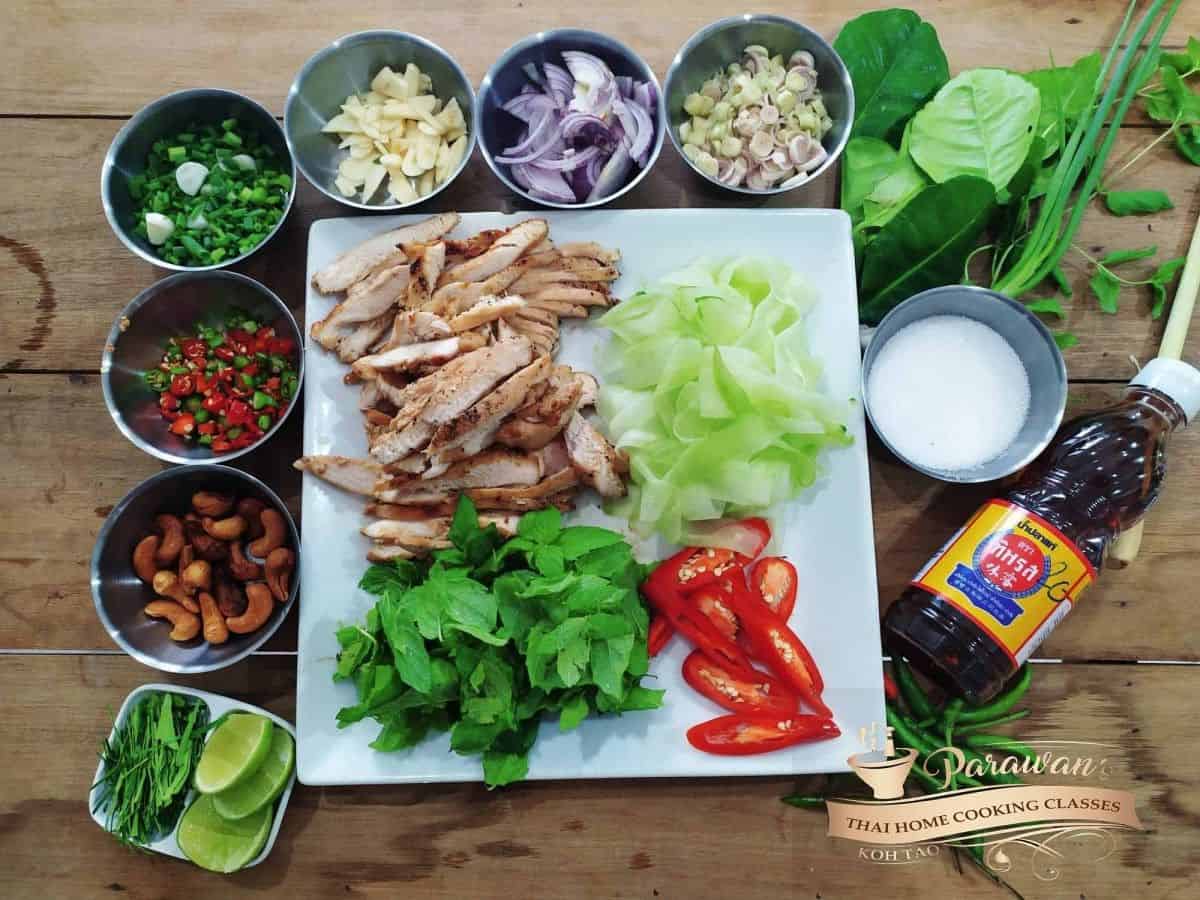 Ingredients List
● 200 g Marinated chicken breast/Pork/Tofu
(Marinade with salt, pepper, sugar and soy sauce)
● 2 or 3 stems of Lemongrass
● 1 Cucumber
● Fried Cashew nuts or other nuts for example peanuts.
(much as you like)
● 1 or 2 Shallots
● 2-3 cloves of Garlic
● 1 tablespoon kaffir lime leaves (if you can't find this
then you can exclude it and just add extra mint)
● Spring onion, Mint (As much as you like)
● Lime or Lemon juice 3 or 4 tablespoons
● Fish sauce 2 tablespoons
● Sugar or Palm sugar 2 tablespoons
● Black pepper, salt
● Thai Hot Chilies (amount depends on how spicy you like),
chop. If you don't like spicy at all then use a large red pepper