Tom Kha Kai (Chicken with coconut soup)
Tom Kha Kai is a food that tastes like a non spicy Tom Yum. The only difference is Tom Kha Kai adds coconut milk. Other ingredients include chicken, young galangal, chilli, lemon and fish sauce. Some recipes include lemongrass as well. Suitable as a side dish because the taste is quite rich The mixture is not complicated and it can also be modified to add shrimp instead of chicken, but Chicken is the most popular option.
Parawan's Thai Home Cooking Classes will show you how to make nice and easy Chicken with coconut soup or Tom Kha Kai that you can cook at your home.
Ingredients
• 200 g Chicken breast or Chicken leg (hip, bone attached)
• 250 ml Coconut Milk
• Water to thin the coconut milk
• A few slices galangal
• Lemongrass (cut into pieces around 4-5 pieces)
• Kaffir lime leaves 3-5 leaves
• 1 Red or white onion
• Garlic (much like you like)
• Vegetables (mushrooms, carrot, baby corn, tomatoes or cherry tomatoes)
• Spring onion long cut 1 inch
• Coriander or parsley (for garnishing)
• Lime
• Salt
• Sugar (not needed, depends on your taste if you like it without then you can
leave out)
• Black pepper (again this is optional)
• Fish sauce few drop (if you don't like the smeall then you can leave this out)

Instructions
Add coconut milk to a sufficiently sized pot.
Add the galangal, chopped lemon grass, chopped onion, garlic, baby corn, carrots, cherry tomatoes and some water.
Bring to boil. Add sugar, salt, chicken, mushrooms. Mix them well.
Boil until chicken is cooked and add kaffir lime leaves, spring onions, black pepper, lime juice and if you like some

coriander. And more coconut milk until it looks like milk. Turn off the gas and it's ready to serve. About fish sauce if
you like the taste already then no need to add it in.
Note, for vegetarian or vegan dish add more vegetables and tofu instead and no fish sauce.
Card title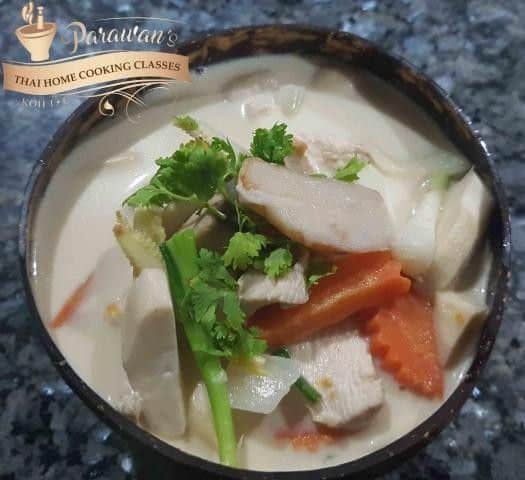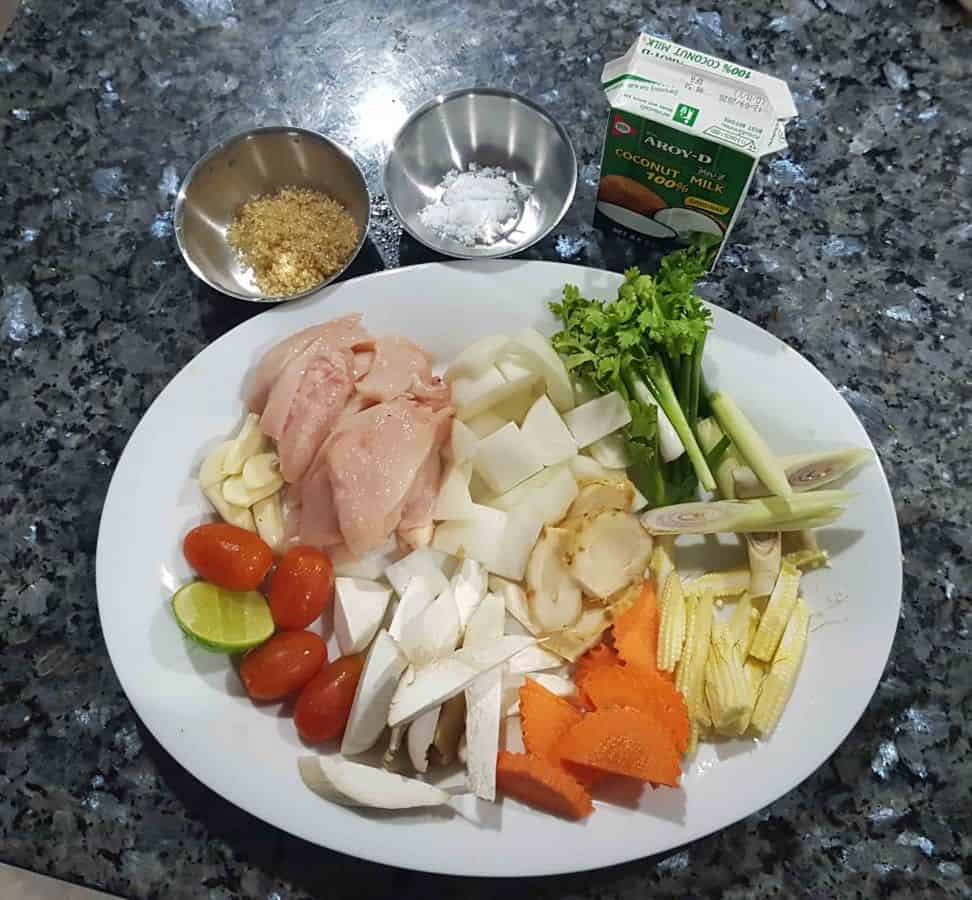 Ingredients List
● 200 g Chicken breast or Chicken leg (hip, bone attached)
● 250 ml Coconut Milk
● Water to thin the coconut milk
● A few slices galangal
● Lemongrass (cut into pieces around 4-5 pieces)
● Kaffir lime leaves 3-5 leaves
● 1 Red or white onion
● Garlic (much like you like)
● Vegetables (mushrooms, carrot, baby corn, tomatoes or cherry tomatoes)
● Spring onion long cut 1 inch
● Coriander or parsley (for garnishing)
● Lime
● Salt
● Sugar (not needed, depends on your taste if you like it without then you can
leave out)
● Black pepper (again this is optional)
● Fish sauce few drop (if you don't like the smeall then you can leave this out)