Sai-Ua (Northern Thailand sausage)
Sai-Ua is a grilled pork sausage from northern Thailand. In Thailand, it is a standard food of the northern provinces and it has become very popular in the rest of Thailand as well. Its name in Thai comes from sai (intestine) and from ua (to stuff).
Sai-Ua Ingredients:
5 kg of minced pork with fat
4 tbsp red curry paste (don't be afraid of the chili as after cooking the spice level does drop)

5 cup chopped fresh coriander (adjust to taste)
5 cup chopped spring onion (adjust to taste)
2 tbsp finely chopped kaffir lime leaves (adjust to taste)
1 tbsp turmeric powder
1 tsp white or brown sugar
2 tbsp light soy sauce
2 tbsp fish sauce
2 tbsp oyster sauce
1 tsp pork seasoning (if you can not find pork seasoning, use one extra tbsp of oyster sauce)
Intestines (hog intestine casings is the usual option, but you can also use synthetic casings)
Instructions to make Sai-Ua:
Clean the intestines thoroughly and leave it in a bowl with water and a lot of salt to kill the bacteria.
Put all the ingredients together and mix well (pork, curry paste, coriander, spring onion, kaffir, turmeric, sugar, soy sauce, fish sauce, oyster sauce and pork seasoning).
Make a little patty and bake it in the pan so you can taste the flavour. Curry paste is never the same so it is possible that you, for example, find it not spicy enough and you can add a bit more to your mixture. When you are satisfied with the flavour, put the bowl in the fridge for around two hours.
Prepare your sausage machine (there are many different types you can use. Be aware that some machines need a big amount of meat to be able to process it).
Add the meat into the machine, connect the intestine to the tube, make a hole in the intestines to allow air to be released(with for example a toothpick), make a knot at the end and start filling! If your hands are wet it is easier. Make sure it is not too tight and not too loose.
Make holes in the sausage so any trapped air can go out.
Make a roll of the sausage and set it aside for a day. If you grill the sausage right away there is a big chance of ripping. You can either hang the sausage outside in the sun or put it in the freezer. Make sure you take the sausage out of the freezer long enough before you want to cook it so it is defrosted.
Add oil to your pan and bake the sausage on low heat to avoid it being burned on the outside and raw on the inside. Another option is to grill or barbeque the sausage.
Normally these sausages are eaten with any kind of vegetables, in Thailand pickled ginger, chilies and garlic are all popular, any kind of vegetable that you like will go well with these sausages. Enjoy your homemade sausage!
PS: If you like fusion food these sausages will also work well as pizza toppings, with fried rice, etc.
Card title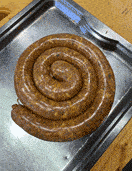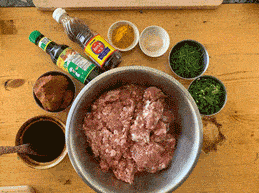 Ingredients List
● 5 kg of minced pork with fat
● 4 tbsp red curry paste (don't be afraid of the chili as after cooking the spice level does drop)
● 5 cup chopped fresh coriander (adjust to taste)
● 5 cup chopped spring onion (adjust to taste)
● 2 tbsp finely chopped kaffir lime leaves (adjust to taste)
c1 tbsp turmeric powder
● 1 tsp white or brown sugar
● 2 tbsp light soy sauce
● 2 tbsp fish sauce
● 2 tbsp oyster sauce
● 1 tsp pork seasoning (if you can not find pork seasoning, use one extra tbsp of oyster sauce)
● Intestines (hog intestine casings is the usual option, but you can also use synthetic casings)