Panang curry is a curry that is hard-pressed and not spicy. Panang is often flavored with a sweet taste and doesn't have a lot of vegetables. Usually it uses only red chili, sliced long beans and torn kaffir lime leaves or sliced as decoration. Some Panang Curries are made with basil leaves or use ground roasted peanuts to make the curry more intense and rich.

Parawan's Thai Home Cooking Classes will show how to make very tasty and easy to cook panang curry paste to make Panang curry. Panang curry by Parawan's Thai Home Cooking
Classes will add more vegetables as most people like to be healthy even with curry.
How to make Panang curry Paste :



Instructions
Roast the dried ingredients in a pan over low heat

until fragrant.
For the best taste use pestle and mortar to grind the

roasted ingredients to powder. However, a blender
can also be used, which saves an enormous amount
of time and effort. Remove the powder mix and put
aside.
Tip: For dried spices, such as coriander, cumin, cinnamon, they should be roasted and fragrant.
Then pound thoroughly before being combined with fresh produce.
Add the dried peppers and dried red chili which were

soaked in water and some salt. (Dried peppers and
dried red chili need to be soaked in water for at least
30 minims before to ensure they're easy to break down
for the paste)
Then add the ingredients that are quite hard first, such as lemongrass, galangal, turmeric, ginger by adding one at

a time. They should be cut into small pieces to help them to be ground down more quickly and easily.
Add garlic, shallots last because it has high water

content which makes them difficult to grind and can
splash into the eyes. Then add the ground dry
ingredients powder mix to the paste.
Remove paste and to put all the ground ingredients together with some oil in the blender. After blending the

Panang curry paste until all smooth move to a pan and bring to the boil. Then let the paste cool down take some
paste to use for cooking and then keep the rest in a jar and put into fridge.
How to make Red curry

Ingredients
Wet Ingredients
•
Instructions
Add a little of the coconut milk until it boils and add some

red curry paste. Cook until the paste is fragrant, and the
red oil comes to the surface.
Add some chicken and Add all the hard vegetables (carrots and

some baby corn) with some water. Stir until the chicken turns
white then add some seasoning sugar, salt and oyster sauce.
Add some water just enough to cover everything and bring to boil again. Then add some long

beans(if you like crunchy, if not you can add earlier with the hard vegetables) , peppers and
some kaffir. Add some more coconut milk in the end for more taste. Ready to serve.
NB: For Vegetarian or Vegan dish can change chicken to Tofu or add more pumpkin, or some
other vegetables and use mushroom sauce instead Oyster sauce.
Card title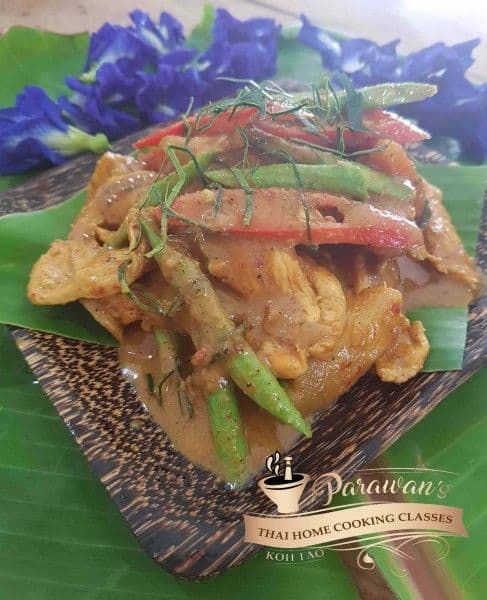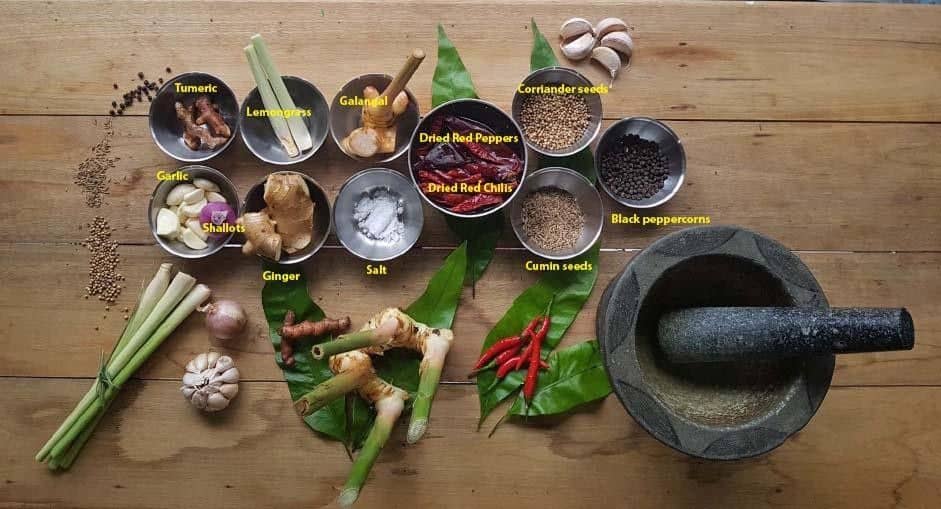 Ingredients List
● 2 stalks lemongrass, finely sliced
● 6 g ginger sliced
● 6 g galangal sliced
● 3 g turmeric (Curcuma)
● 44 g shallots, peeled and sliced
● 18 g garlic, peeled and sliced
● 7-10 dried red chilies, seeded and soaked to soften
● 3-5 dried red peppers, no seeded and soaked to soften
● sea salt
● 4 g coriander seeds
● 1 g cumin seeds
● 10 black peppers
● Chicken breast (or Tofu) cut, you can also use another
part of chicken too.
● Pineapple
● Carrots, baby corn and long beans or you can use
other vegetables if you prefer
● Kaffir lime leaves
● Red peppers or can use bell peppers
● Coconut milk and some water
● Fish sauce (Test before you add in just in case you don't like
the smell of it)
● Salt
● Sugar/ palm sugar
● Oyster sauce