PAD THAI

History of Pad Thai
Pad Thai which was previously called Pad Thai Noodle became popular due to the economic downturn of the country during World War 2 and as rice was expensive Field Marshal P. Pibulsongkram campaigned for people to prefer noodles instead of rice. Meat fried with noodles was too similar to Chinese food (Thais wanted to be different) which caused the invention of Pad Thai which they called Thai fried noodles. This had a mixture of thin noodles, eggs, chopped Chinese chives, bean sprouts, chopped radish, yellow tofu, roasted peanuts and dried shrimps. Additional ingredients such as chilli, fish sauce and sugar were used to season the dish.
Originally, Pad Thai had no meat ingredients, especially pork, because it was thought that it would be too similar to fried noodle noodles. Therefore, tofu was used instead in the recipe, then depending on the area other ingredients were added such as fresh shrimp also known as Thai Thips, fresh shrimp for Chan noodles (rice noodles) and wrapped in eggs. Chicken can also be used in Pad Thai. Nowadays, Pad Thai is considered a famous food of Thailand. Wherever you go, there are always shops selling Pad Thai, often sold together with fried clams because they are using a similar cooking method (using a flat pan for similar stir frying), Not only popular in Thailand Pad Thai is another Thai food that foreigners are familiar with, making Pad Thai one of the most recognisable Thai foods.

Parawan's Thai Home Cooking Class will show how to make a nice Pad Thai in an easy way, but as some ingredients may be difficult for you to source at home we will vary slightly from the traditional recipe. The recipe that we shall use can be adapted to be suitable for vegetarians and vegans too by excluding chicken and prawns.
Ingredients : Pad Thai Sauce
Instructions: Pad Thai Sauce
Tamarind needs to be soaked in water for at least 10 minims to make

easy to take the tamarind flesh off, we will use only the liquid. But if
you use tamarind paste no need to mix it with water.
Heat cooking oil in a pot and fry the red onions until they are golden

brown. Add tamarind, palm sugar and salt keep stirring until the sugar
melts.
Add some water bring it the boil and then move out from the heat.
NB: The Pad Thai sauce doesn't need to be thick if it's too thick then add some more water in. The taste of Pad Thai sauce should be sweet, sour and salty and it should be a brown runny sauce.
Instructions: Pad Thai Prawns.
Heat oil and then add garlic until smell nice and add the egg(s) cook nice and cut eggs to big piece.
Add Pad Thai Sauce then put rice noodle in sauce make sure that the Pad Thai sauce covers the rice noodles.

Bring to boil and let it simmer until the noodles are cooked. Add Vegetables mix well.
Add prawns and put cooked stuff over prawns, bean sprouts and chives. Stir well. Add soy sauce.

(be careful not to overcook the prawns). Ready to saver
PS: If you are doing Pad Thai with meat or tofu. Heat cooking oil in a pan and fry the meat until almost cooked first.
Here some pictures of Pad Thai with chicken and tofu.
Heat up oil then add garlic then chicken and tofu (or just tofu if no eat meat) stir well until chicken or tofu cooked.
Add eggs and do step as same cooked Pad Thai with prawns.
Card title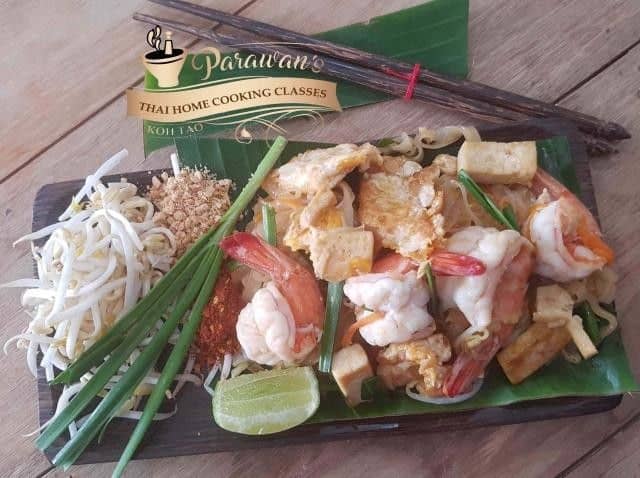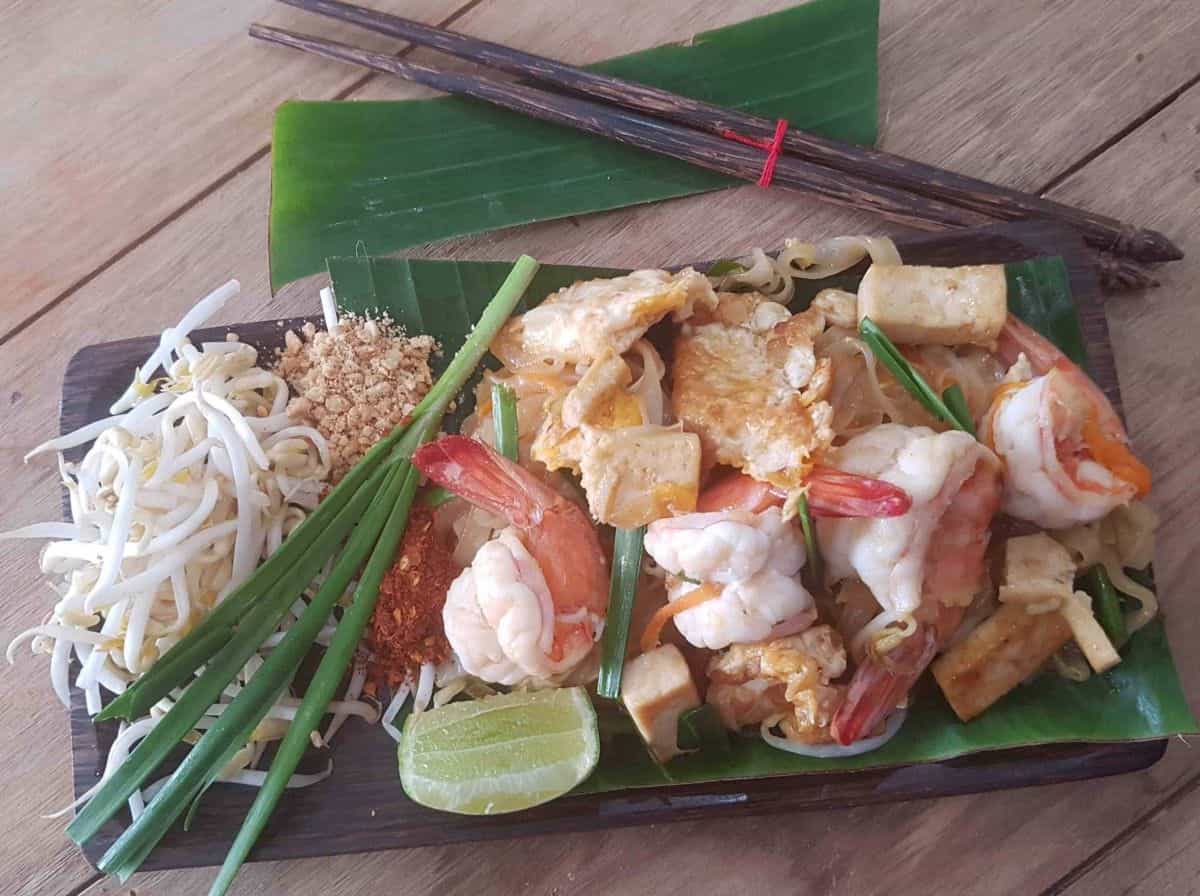 Ingredients List
● Tamarind sauce or tamarind paste
● Palm sugar
● Salt
● Red onions chopped
● 1 cup of water
● Rice noodles
● Prawns or Meat or tofu
● Pad Thai sauce
● Eggs
● Garlic Cloves chopped
● Bean Spouts
● Chives cut 1 inch long
● Extra Vegetables : Carrot,
● Cabbage or what your like. Cut to size that you like
● Soy sauce
● Cooking oil