Drunken noodle or Pad Kee Mao (Stir fried Big flat noodles with holy basil or sweet basil)
Pad Kee Mao or Drunken noodles is another popular Thai food. If you like spicy flavours are stir-fried noodles with herbs, such as fresh pepper, fresh chilies, basil and garlic. Spicy flavor helps to sweat. Makes the blood flow better. The secret to cooking is with good quality fresh pork. Flavoring Stir-fried to a large, fragrant noodle, not messy, is the charm of this dish.
Drunken noodle or Pad Kee Mao The ingredients and steps are easy to understand, not complicated, suitable for lovers of cooking, noodle menu
INGREDIENTS
100 g Meat (Chicken, pork, prawn) or tofu for vegetarian
1 egg
Big flat noodles
Holy basil or sweet basil
Fresh pepper corn
Red pepper/chillies
Kale : Chinese kale
Vegetables you like (carrot, baby corn)
2 cloves garlic crushed
1 Tbsp cooking Oil
2 tsp sugar
1 tsp Dark soy sauce
1 tbsp Soy sauce
1 tbsp Oyster sauce
Black pepper
Method
Mash the big flag noodles with the black soy sauce all over mix well, set aside.
Pound chilies and garlic, coarsely prepared. Heat a frying pan with vegetable oil. Add garlic and stir fry until fragrant.
Add meat or tofu (vegetarian) and stir-fry until cooked. Add some hard vegetables (carrot and baby corn) cooked well then add eggs in. (if you no have any hard vegetables just add eggs in) mix well.
Add big flat noodle that has been mixed and some fresh peppercorn. Season with granulated sugar, soy sauce, oyster sauce, stir fry together.
Add kale mix well and then add holy basil (or sweet basil) and Red pepper or chilies stir all the ingredients together. When everything cooked add some black pepper in scoop them into a serving container.
Tips for making stir-fried noodles
Choosing twine Choose the line that is thick and oily and is freshly made day by day. By observing the good lines that are not rancid smell of oil.
Techniques for preparing twine for cooking To be roasted on a hot pan. So that the noodles are ripe and fragrant, and the smell of the oil stuck in the strands disappear.
The oil used for stir-frying does not need to be added too much and then add the garlic to fry first. Will make the oil fragrant Add fragrance to food And must use new oil So that there is no smell of other food mixed
The peppers used for this menu choose to use both paprika and chili peppers. That gives the spicy flavor and color of the food
Ps. Pad Kee Mao will taste sweet and spicy. If you like a little bit sours can add lemon on top. For Vegan and vegetarian change meat to tofu or just add more vegetables, you like in.
Card title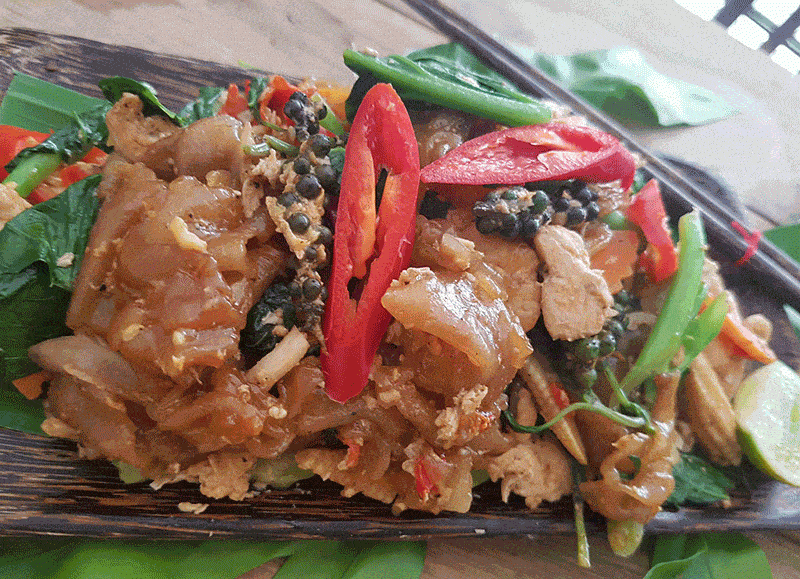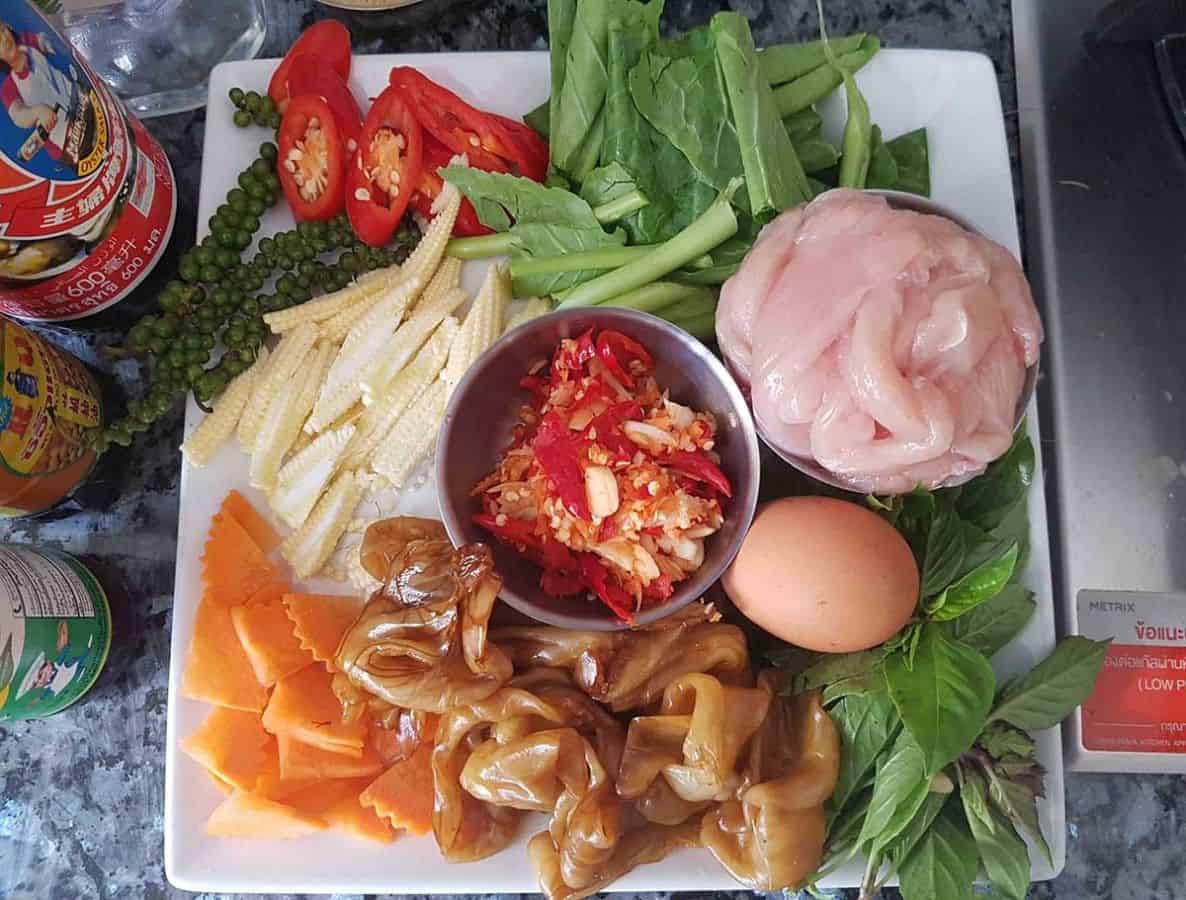 Ingredients List
● 100 g Meat (Chicken, pork, prawn) or tofu for vegetarian
1 egg
● Big flat noodles
● Holy basil or sweet basil
● Fresh pepper corn
● Red pepper/chillies
● Kale : Chinese kale
● Vegetables you like (carrot, baby corn)
● 2 cloves garlic crushed
● 1 Tbsp cooking Oil
● 2 tsp sugar
● 1 tsp Dark soy sauce
● 1 tbsp Soy sauce
1 tbsp Oyster sauce
● Black pepper