in a curry that each family didn't make often, it was popular for parties and
receptions. In those days the curry had to have expertise to make the it
since the ingredients and methods are quite complicated. Massaman
curry is a coconut milk curry that has thick sauce and most importantly,
there must be oil on the sauce surface in order to be appetizing. Most
commonly used with beef and chicken, it is a side dish topped with rice
or as a snack eaten with bread, rice crackers and crackers."
How to make Massaman Curry Paste :

INSTRUCTIONS
Roast the dried ingredients in a pan over low heat until

fragrant. (Cinnamon if have sticks you have to break them first make small)
For the best taste use pestle and mortar to grind the roasted ingredients to powder.

However, nowadays a blender can also be used, which saves an enormous amount
of time and elbow grease. Remove the powder mix and put aside. (For cardamom
need to peel and discard the shell after roasting)
Tip: For dried spices, such as coriander, cumin, cinnamon, they should be roasted
and fragrant. Then pound thoroughly before being combined with fresh produce.
Wet ingredients add the dried peppers and dried red chili which were soaked in water and some salt. (Dried peppers and dried red chili need to

be soaked in water for at least 30 minims before to ensure they're easy to break down for the paste)
Add the ingredients that are quite hard first, such as lemongrass, galangal, galangal, turmeric, coriander root by adding one at a time.

They should be cut into small pieces to help them to be ground down more quickly
Add garlic last because it has high water content which makes it difficult to grind and

can splash into the eye. Then add the powder mix with the paste.
Remove paste and to put all the ground ingredients together with some oil in the

blender. After blending the Massaman curry paste until all smooth move to a pan
and bring to the boil. Then let the paste cool down take some paste to use for
cooking and then keep the rest in a jar and put into fridge.
How to make Massaman Curry
Ingredients :
Instructions
1 Add a little oil in to a pan then add massaman curry paste. Stir-fry and add coconut milk.
Cook until the paste is fragrant and the red oil comes to the surface.
2 Add chicken, potato and onion mix well with curry paste and coconut and keep stirring
add some salt and oyster sauce.
3 Add some water until everything is covered.
4 Bring to boil and simmer it until the potatoes are cooked (if necessary add more water
and coconut milk)when potatoes are cooked add some sugar and add some few drop of
lime juice to adjust the sweet and salty combination. Ensure to keep stirring frequently to
prevent lumping, then remove from the heat.
Card title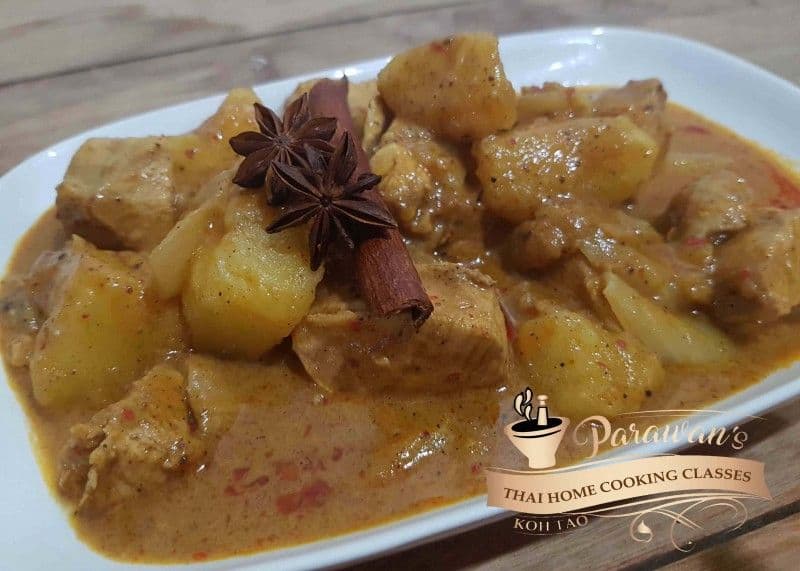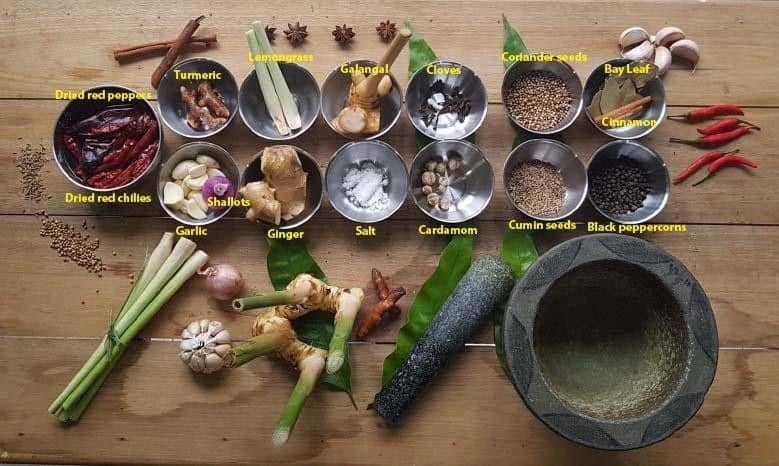 Ingredients List
● 2 stalks lemongrass, finely sliced
● 6 g ginger sliced
● 6 g galangal sliced
● 3 g turmeric (Curcuma)
● 44 g shallots, peeled and sliced
● 18 g garlic, peeled and sliced
● 10 dried red chilies, seeded and soaked to soften
● 4-6 dried red peppers, no seeded and soaked to soften
● ½ tsp sea salt
● 3 bay leaves
● 4 cloves
● 1 cinnamon stick, 1-inch long
● 1 ½ tsp coriander seeds
● 1 tsp cumin seeds
● 4 cardamom
● 15 black peppers
● Chicken breast cut to 1 ½ inch cubes also can use another part of chicken too.
● Potato, peeled and cut into bite-sized pieces
● Onion, peeled and cut into same sized of potato
● Add all of the coconut milk
● Salt
● Sugar
● Oyster sauce
● Fish sauce (taste before adding as if salty enough there may be no need to add)
● Oil
● Lime