Thai Sweet Sticky Rice with Mango (Khao Neeo Mamuang)
Heavenly is the only way to describe the classic Thai dessert khao neeo mamuang. It's the most famous of all Thai desserts and is so very scrumptious. The sticky rice is made in a pot on your stove. Just place some fresh mango slices over the sticky rice and smother with the easy coconut sauce, and the result is pure heaven! If you like mangoes and/or sticky rice, you're going to love this exotic Thai dessert.
Ingredients:
•
Method:
Take sticky rice to wash and soak for 1 night (or more than 3 hours), then drain (In the case of wanting to make sticky rice with various colours then add colour to the water soaked overnight too)
Put some white cloth in the battered pot or steamer. Then put the sticky side on a thin white cloth Then steamed until sticky rice is cooked. Let cook minimum 25 minis
Meanwhile, in another medium pot over medium heat, bring remaining coconut milk and some water and sugar and salt to a boil over medium heat. Stir until sugar is dissolved and continue to cook until mixture bubbles vigorously and is slightly thickened, taste and it needs to be a strong mix well of sweet and salty.
In a medium sized bowl put the sticky rice that has been steamed until done well. Then add coconut milk to simmer in step three. Stir until all ingredients mixed well and leave for at least 15-30 minutes then can be served
For topping sauce combine ¾ cup of coconut milk mixed with rice flour or corn flour and ¼ teaspoon of salt. Bring to heat and stir continuously until the coconut milk is thick and boiling. Use as coconut milk for topping.
Scoop sticky rice on a plate. Topped with coconut milk served with ripe mangoes (When served, may be sprinkled with golden beans)
Card title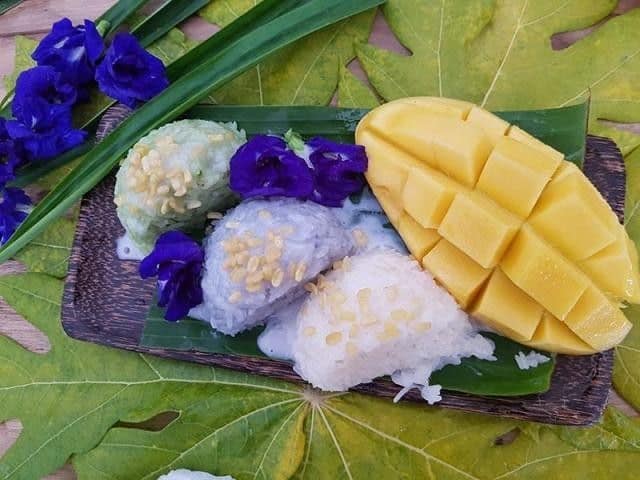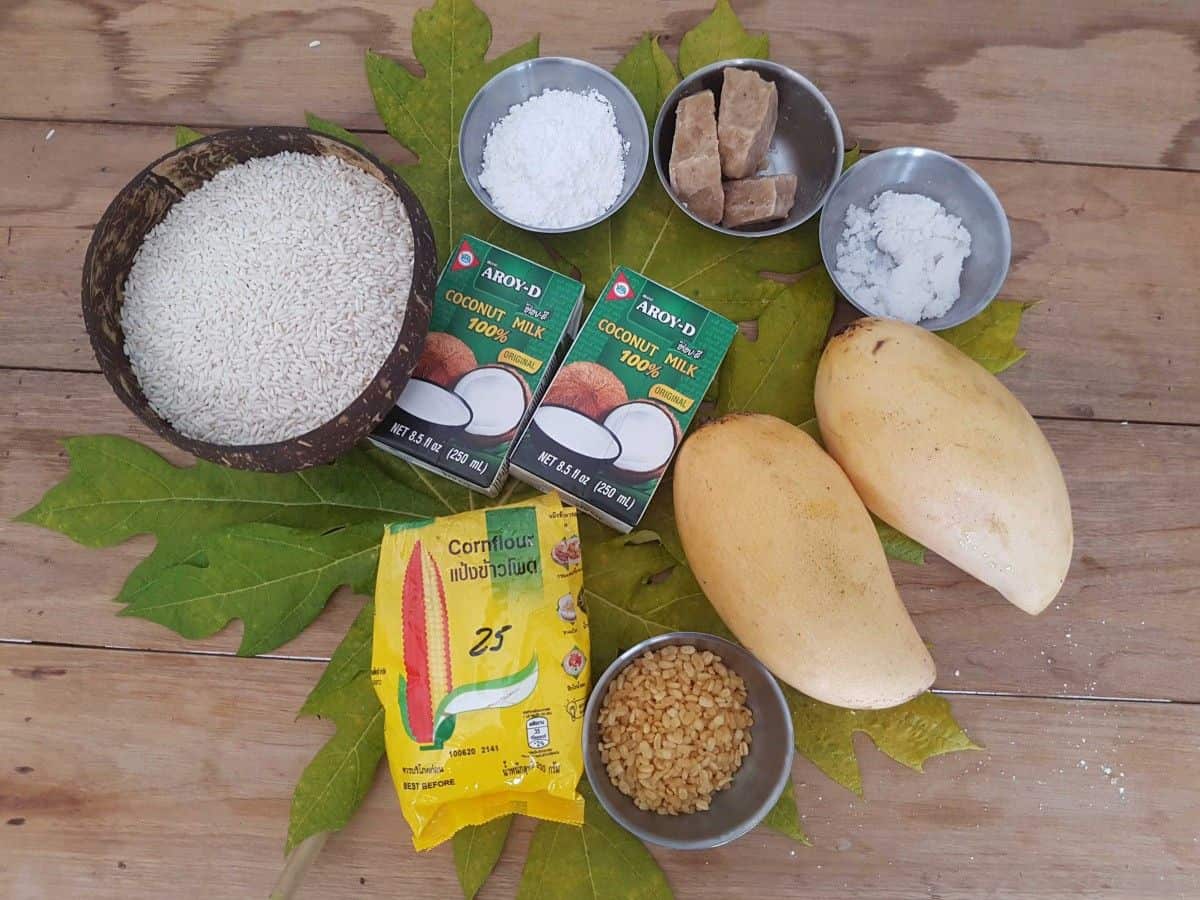 Ingredients List
● 2 cups sticky rice also called glutinous rice
● 2 cups coconut milk
● 1 cup sugar, Palm sugar
● 1/2 teaspoon salt
● 3 ripe mangoes, cut into thick slices
● 1 tablespoon toasted sesame seeds
● 1 tablespoon tapioca starch
● 1 tablespoon sugar
● 1/4 teaspoon salt