Finding Parawan's Thai Cooking Class in Koh Tao
The location of Parawan's Thai Cooking Class is actually at my home which is in Sairee on Koh Tao.
I started off my cooking classes in my own kitchen at home and then in March 2020 I finished changing the rooftop of my house into a purpose-built cooking school. This now allows me to have more than just 2 or 3 students learn to cook Thai food at the same time, so now I can take up to 7 or 8 people in a group class. Having my own space to teach my classes on the roof of my house allows me to separate my work from my family life.
If you are staying in Sairee already then you can probably walk to my house as Sairee isn't that big, if you are staying in another part of the island then you may need to take a taxi or use a rental bicycle or scooter if you have rented one whilst you are on the island. We can recommend Oli's Bike rentals if you do want to rent a bike whilst on Koh Tao and they will pick you up from where you are staying to collect a bike.
You can get directions to my Thai Cooking School on Koh Tao.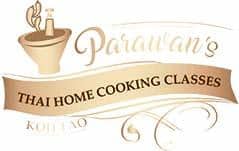 If you are heading to my house from the crossroads in Sairee on the main road where The Brother Bar & Restaurant, Red Pharmacy, and 7-11 are then head inland in the opposite direction to 7-11 and Red Pharmacy and then turn left at Asia Resort. Follow that road around until you see Buchai Village and small convenience stores on either side of the road and turn left there and go down the road past the Jitsin laundry on the left and then take the next right before the road goes up a bit of a hill. There is a sign at the end of the street that you will see has the logo of my cooking school on it too like this one.
My house is the second to last house on the left at the end of the street and is quite easy to spot as it has a black fence around it. If you are having problems finding me then contact me via the contact page or via the messenger or WhatsApp links.