Khao Soi is a curried noodle dish that is popular especially in the north of Thailand. Originally this dish was introduced by Muslim Chinese originating immigrants and so it was traditionally made with either chicken or beef. You can also make it with seafood or tofu. The noodles we use for this dish are yellow egg noodles that are covered with a rich curry sauce and topped with onions, coriander, pickled vegetables, chili oil, lime juice and fried egg noodles.
Ingredients to make curry paste
1 tbsp Galangal sliced
2 tbsp Ginger
50 g Shallots, peeled and roast
1 tbsp Tumeric
30 g Garlic, peeled and roast
10-15 Dried red chilies, seeded and soaked to soften
5 Dried red peppers, not seeded and soaked to soften
2 Coriander roots
½ tsp Coriander seeds
½ tsp Cumin seed
10 Black peppercorns
½ tsp Sea salt
4 Cardamon pods
INSTRUCTIONS
Prepare all of the wet ingredients by cutting them into small pieces.
Roast the dried ingredients in a pan over low heat until fragrant. (Tip: For dried spices, such as coriander, cumin, black peppercorn, they should be roasted and fragrant. Then pound thoroughly before being combined with fresh produce.)
For the best taste use mortar and pestle to grind the roasted ingredients into a powder. However, nowadays a blender can also be used, which saves an enormous amount of time and elbow grease. Remove the powder mix and put it aside.
Roast the wet ingredients (onion, garlic, turmeric, coriander root, galangal and ginger) in a pan over low heat without oil until soft and fragrant.
Wet ingredients add the dried peppers and dried red chili which was soaked in water and some salt. (Dried peppers and dried red chili need to be soaked in water for at least 30 minims before to ensure they're easy to break down for the paste)
Add the Chili and salt into the mortar & pestle and pound and then add the roasted wet ingredients. They should be cut into small pieces to help them to be ground down more quickly.
Then add the ground dry ingredients powder mix to the paste. Mix well then ready to use for your curry.
PS. If you are going to use a blender you can to put all the ground ingredients together at the same time with some oil and use the blender to make your curry paste.
After you have made your paste head up a pan. If you have made your paste with a mortar and pestle then add your curry paste and some oil to cover the paste. If you made your curry paste in the blender then no need to add additional oil as you added it in before blending your paste mixture. Heat the paste until you see it bubble and cook and then remove from the heat to let it cool down and then you can store your curry paste in a jar or container in the fridge.
How to make Chicken Khao Soi
INGREDIENTS
2 Chicken legs cut in half (separate the thigh from the drumstick) also you can use another part of the chicken too or a different meat/tofu etc.
Khao Soi curry paste
2 tsp. Curry powder
2-3 Cardamon pods
100 % Coconut milk and some water
Sugar/palm sugar
Salt
Light soy sauce
Dark soy sauce
Fish sauce (Taste before you add in just in case you don't want the smell of it)
Coriander just for put on top as garnish
INSTRUCTIONS
Add a little oil in to a pan then add yellow curry paste. Stir-fry and add coconut milk. Cook until the paste is fragrant and the red oil comes to the surface.
Add some coconut milk cover yellow curry paste and mix well.
Add chicken, potato, onion and some yellow curry powder mix well with curry paste and coconut and keep stirring.
Add some water until everything is covered.
Bring to boil and simmer it until the potatoes are cooked (if necessary add more water and coconut milk) when potatoes are cooked add some salt sugar and oyster sauce and some last coconut milk much for you like. Adjust the sweet and salty combination. Ensure to keep stirring frequently to prevent lumping, then remove from the heat.
Remark: For Vegetarian or Vegan dish can change chicken to Tofu or add more pumpkin, sweet potato or some carrot. Use mushroom vegetarian sauce instead Oyster sauce.
Card title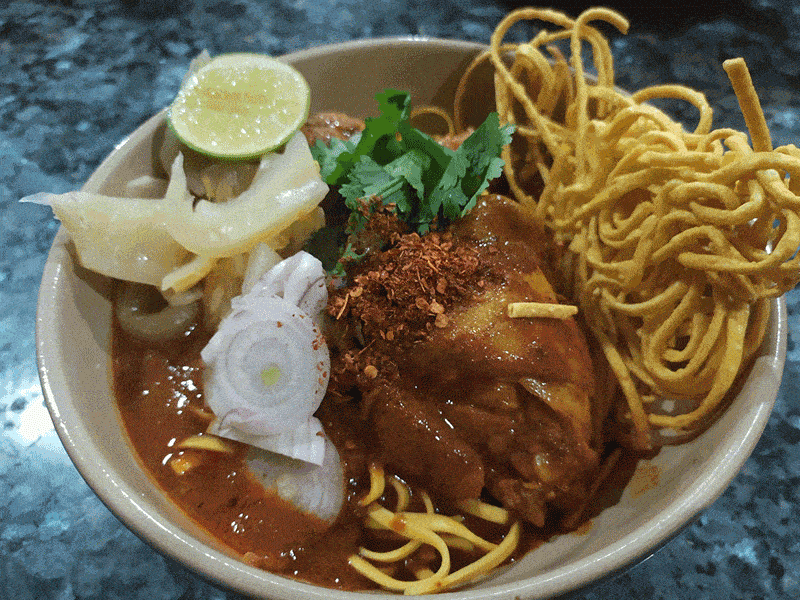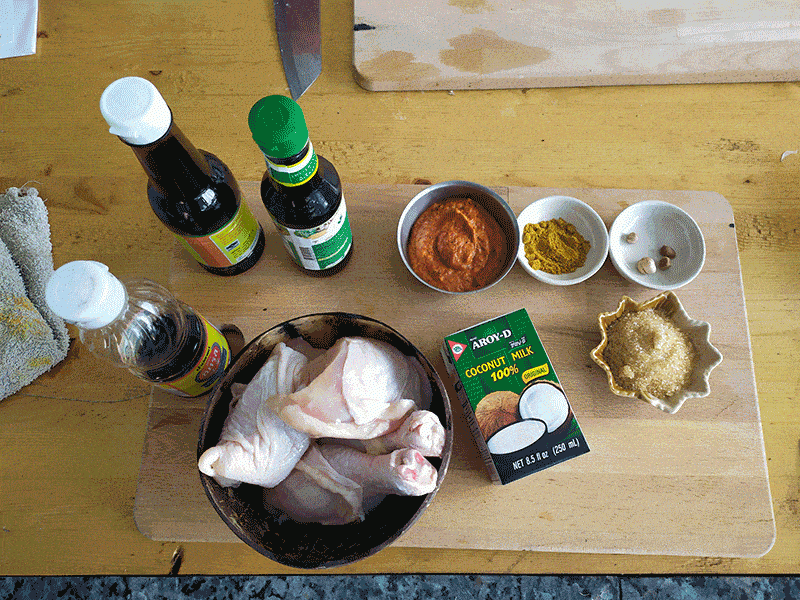 Ingredients List
● 1 tbsp Galangal sliced
● 2 tbsp Ginger
● 50 g Shallots, peeled and roast
● 1 tbsp Tumeric
● 30 g Garlic, peeled and roast
● 10-15 Dried red chilies, seeded and soaked to soften
● 5 Dried red peppers, not seeded and soaked to soften
● 2 Coriander roots
● ½ tsp Coriander seeds
● ½ tsp Cumin seed
● 10 Black peppercorns
● ½ tsp Sea salt
● 4 Cardamon pods