Green curry is a unique curry because the soup is light green which is obtained from the colour of fresh green chili peppers and fresh green paprika. It has a spicy, salty taste. When stir-frying curry with coconut milk the curry will be light green according to the colour of the chili, so it's called "green curry". Parawan's Thai Home Cooking Classes will show you how to make nice and easy green curry paste which you can use when cooking back at home.
How to make Green Curry Paste :
Wet Ingredients

Instructions
Roast the dried ingredients in a pan over low heat until fragrant.
For the best taste use pestle and mortar to grind the roasted ingredients to powder. However, nowadays a blender can also be used, which saves an enormous amount of time and effort. Remove the powder mix and put aside. (For cardamom need to peel and discard the shell after roasting)
Tip: For dried spices, such as coriander, cumin, black peppercorn, they should be roasted and fragrant. Then pound thoroughly before being combined with fresh produce.
Add the wet ingredients and salt that are quite hard first, such as lemongrass, galangal, turmeric, adding one at a time. They should be cut into small pieces to help them to be ground down more quickly .
Add garlic last because it has high water content which makes it difficult to grind and can splash into the eye.

Then add the ground dry ingredients powder mix to the paste.
How to make Green curry
Ingredients
Instructions
Add a little of the coconut milk and bring it to a boil and add some red curry paste. Cook until the paste is fragrant, and the red oil comes to the surface.
Add some chicken and add all the hard vegetables

(carrots and baby corn) with some water.
Add aubergine, salt, sugar or palm sugar, oyster sauce

and bring to the boil again.
Add some sweet basil, peppers and kaffir lime leaves.

Then add some more coconut milk in the end for more
taste. If you like fish sauce you can add this time before
turning off gas. Ready to serve
NB: For Vegetarian or Vegan dish you can change chicken to Tofu or
add more pumpkin or other vegetables. Use mushroom vegetarian
sauce instead Oyster sauce.
Card title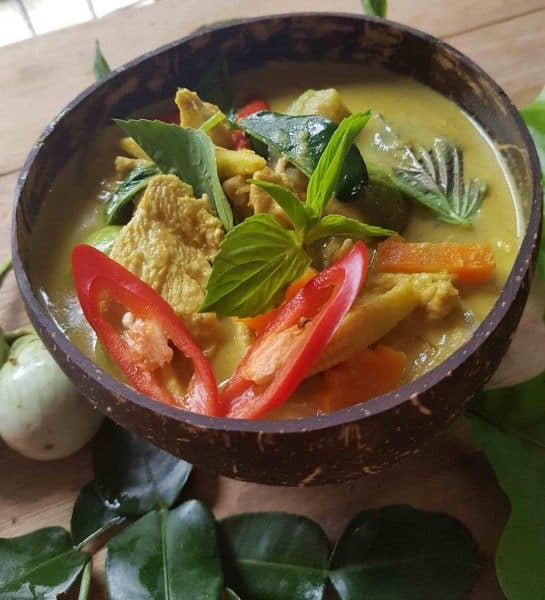 Ingredients List
2 stalks lemongrass, finely sliced
● 6 g galangal sliced
● 2 g turmeric (Curcuma)
● 44 g shallots, peeled and sliced
● 18 g garlic, peeled and sliced
● 10 Thai green peppers, finely sliced
● 15 Thai green chillies , finely sliced
● ½ tsp sea salt
● 1 ½ tsp coriander seeds
● 1 tsp cumin seeds
● 10 black peppers
● Chicken breast cut, but you can use other parts of chicken too.
● Green curry paste
● Aubergine or some other vegetables
● Carrots, baby corn, long beans or you can also use other
vegetables
● Kaffir lime leaves
● Sweet basil
● Red peppers or bell peppers
● Coconut milk and some water
● Fish sauce (Taste before you add, just in case you don't like the
taste of it)
● Salt
● Sugar/ palm sugar
● Oyster sauce