Garlic and Pepper Chicken
Garlic and Pepper (gai pad gra-tiem prik thai) is a very common dish. You can use any meat — pork, beef, shrimp, squid, etc. You can even make a vegetarian one with tofu. It's a very easy and quick dish to make. It's commonly eaten as a one-dish meal over rice, but it can be added to a family-style meal. If sharing – serve it on a regular plate – not over rice.
The history of Garlic and Pepper Chicken
The dish "Stir-Fried Garlic and Pepper" is a popular Thai dish with a Chinese influence. It's believed to have originated from the Chinese immigrants who brought their cooking techniques and ingredients to Thailand. The dish is made by stir-frying garlic, black peppercorns, and other ingredients like seafood, chicken, beef or vegetables. It's typically served with steamed jasmine rice and is known for its strong, savoury flavour and the heat from the black pepper. The dish has become a staple in Thai cuisine and is widely enjoyed in both restaurants and homes.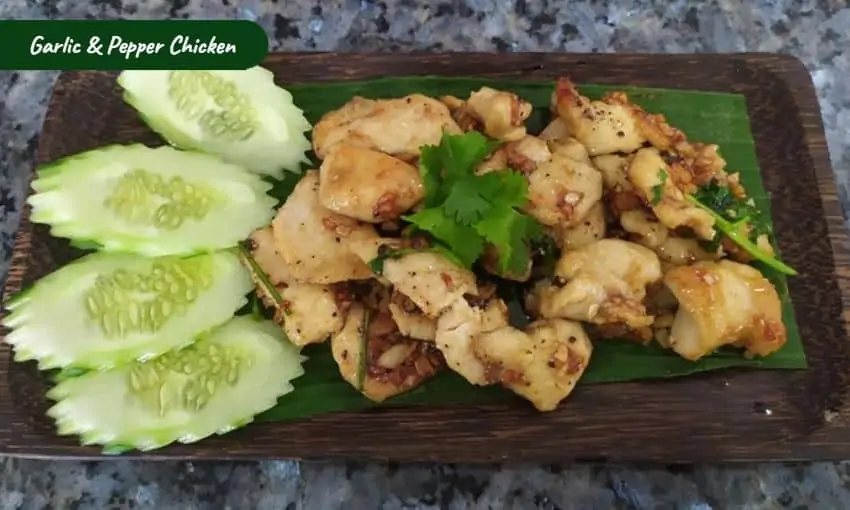 Ingredients you will need if you are taking an online class
● Chicken breast, sliced into thin bite-size pieces
● Garlic cloves, smashed
● Palm sugar (or sugar)
● White pepper powder or black pepper powder (or mixed)
● Soy sauce
● Oyster sauce
● Cooking Oil
● Water
● Coriander leaves (for garnish)