Learn how to make the popular e san dish Laab
Laab is one of the most popular foods in the northeast region of Thailand. Laab is commonly found at events such as weddings and other celebrations. The aroma of roasted rice combined with the smell of herbs added flavoured with chillies and lemons results in a bold flavour and it is usually eaten with hot sticky rice or steamed rice. "Laab" or "Lap", has a spicy, pleasing flavour that is unique to Isan people that many people both Thai and non-Thai people like to order. The origin of Laab is influenced by people coming from Vientiane in Laos to the north and northeast of Thailand. This charming blend of meat and herbs including the flavouring ingredients which is the origin of the term "Zap" meaning delicious in the northeast language itself !! "
Parawan's Thai Home Cooking Class Koh Tao will show the famous Laab pork or chicken recipe with a step-by-step method that is easy to understand, not complicated, suitable for
those experienced cooking Thai food and newbies alike.

Laab normally has a spicy kick and that is why usually this food is eaten with vegetables to soften the spiciness.

Note. For vegetarian or vegan just substitute the meat with Tofu and add salt instead of fish sauce.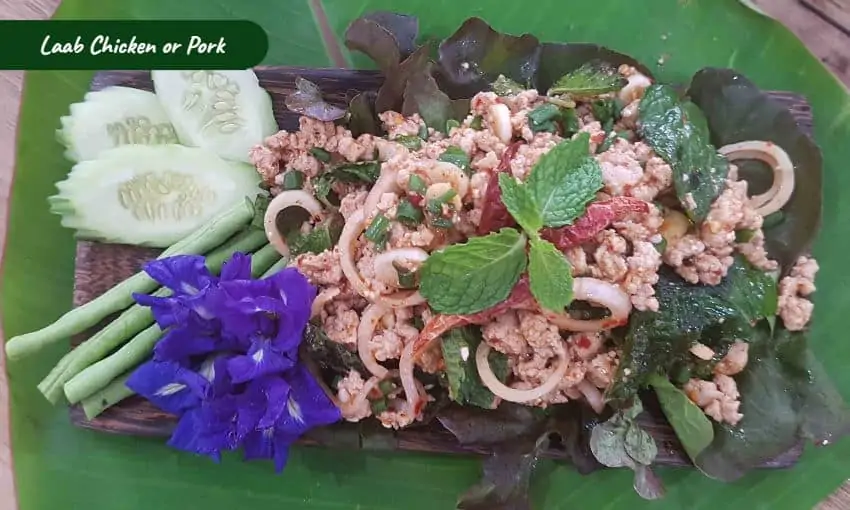 Ingredients you will need if you are taking an online class
● 200 g Chicken or pork mince
● 1 tbsp. Roasted rice
● 1 tbsp. Roasted sesame
● Onion much as you like
● Spring onion much as you like
● Mint leaves much as you like
● Dry chillies
● Fish sauce
● Lime or lemon
● Oil
● Side dish fresh vegetables anything you like