Popular Chang Mai curried noodle dish Khao Soi
Khao Soi is a popular Thai dish consisting of soft flat egg noodles in a flavourful curry-like broth made with coconut milk and spices. The broth is typically served with meat (such as chicken, beef or pork) and topped with crispy fried noodles, pickled mustard greens, shallots and lime. It originated in Northern Thailand most commonly linked to Chiang Mai and Chiang Rai areas where it is considered a regional speciality. It is also referred to in some places as Chiang Mai Noodles. Khao Soi is known for its balance of flavours, including sweetness from the coconut milk, sourness from fish sauce, spiciness from chillies, and tanginess from fresh lime wedges. There are many food stalls over the country which sell Khao Soi as their signature dish. Khao Soi can be made as a vegetarian or vegan dish or with meat, the most popular choice of meat to make Khao Soi with is chicken, both chicken drumsticks and boneless chicken thighs work great. This is a favourite curry soup dish in my family.
The history of Khao Soi
It is popular, especially in the northern areas like Chiang Mai and Chiang Rai, Thailand. Originally this dish was introduced by Chinese Muslim traders and immigrants. As they were Muslim this meant it was traditionally made with either chicken or beef and not pork. You can also make it with seafood or tofu. The noodles we use for this dish are yellow egg noodles that are covered with a rich curry sauce and topped with onions, coriander, pickled vegetables, chilli oil, fresh lime juice and topped with crispy noodles which are fried egg noodles.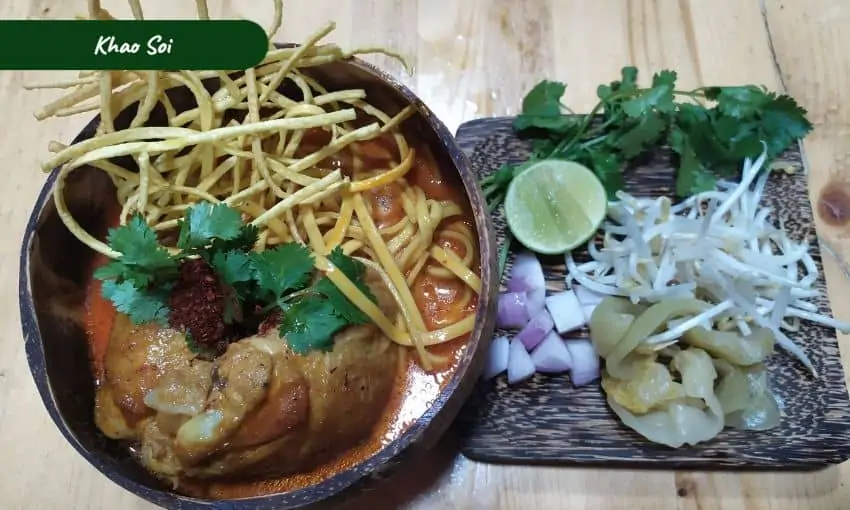 Ingredients you will need if you are taking an online class
● Galangal sliced
● Ginger
● Shallots, peeled and roasted
● Tumeric
● Garlic, peeled and roasted
● Dried red chillies, seeded and soaked to soften
● Dried red peppers, not seeded and soaked to soften
● Coriander roots
● Coriander seeds
● Cumin seed
● Black peppercorns
● Sea salt
● Cardamon pods
● Chicken legs cut in half (separate the thigh from the drumstick) also you can use another part of the chicken too or a different meat/tofu etc.
Khao Soi curry paste
● Curry powder
● Black Cardamon pods (for flavour, but shouldn't be eaten)
● 100 % Coconut milk and some water
● Sugar/palm sugar
● Salt
● Light soy sauce
● Dark soy sauce
● Fish sauce (Taste before you add in just in case you don't want the smell of it)
● Coriander just for put on top as garnish
NB. If you are making this dish in an online class ensure you have either a mortar and pestle or food processor available to make the curry paste.