Learn How To Make Thai Red Curry
If a list is to be made of the top cuisines in the world, the Thai red curry is up there with the best. The Thai red curry paste continues to satisfy people all over the world today. Its worldwide recognition and acceptance simply highlight how sumptuous a meal this is.
The history of Thai Red Curry
Red curry is a coconut-based curry that is red in colour. The word "curry" originated with the Tamil People of India and Sri Lanka. It is used to mean a meal made from a variety of meat and dishes that are cooked using different spices but without sauce, which is, of course, different to many curries including the one that people are familiar with these days.
The origin of the Thai red curry is with the Thai people. This meal has been filling the stomachs of both Thai and grateful people from all over the world for a long time and is usually one of the curries that people from outside of Thailand are familiar with before coming to Thailand.
The Thai red curry originated in central Thailand. This meal is called the Red curry because of the large number of red chillies used to prepare it, which gives it a red-coloured appearance.
Good options to pick to make with Thai Red Curry
There are some other dishes that I offer that you may want to consider if you are going to make Thai Red Curry, which are Sai Oua which is the Nothern Thai Spicy sausage and No Name Vegetable as both of these dishes use the Red Curry paste that you will learn how to make when you a
Is Thai Red Curry Vegan Friendly?

The main ingredients that constitute a proper Thai red curry are all vegan-friendly. Even though the Thai red curry pastes might contain shrimp pastes and fish sauce in it, you can avoid these ingredients and still have a perfect Thai red curry for vegans. So if you would like a Vegetarian or Vegan option or if you have any food allergies then let me know when you book and then I can make the necessary adjustments to the ingredients in the recipe for you.
The Thai vegan red curry only uses ingredients such as shallots, coconut milk, blue ginger, peanuts, red dried chillies and lemongrass.
Thai red curry ingredients that are not for vegans can include a variety of animal products such as beef, pork, chicken, prawns or duck. In some cases, wild animals such as quail and wild boar can be used. When using these more gamey animals for cooking Red curry does work well with them as the Red Curry flavour compliments them well.
The beauty about the Thai Curry paste is that it can be made to be used by both vegans and non-vegans perfectly.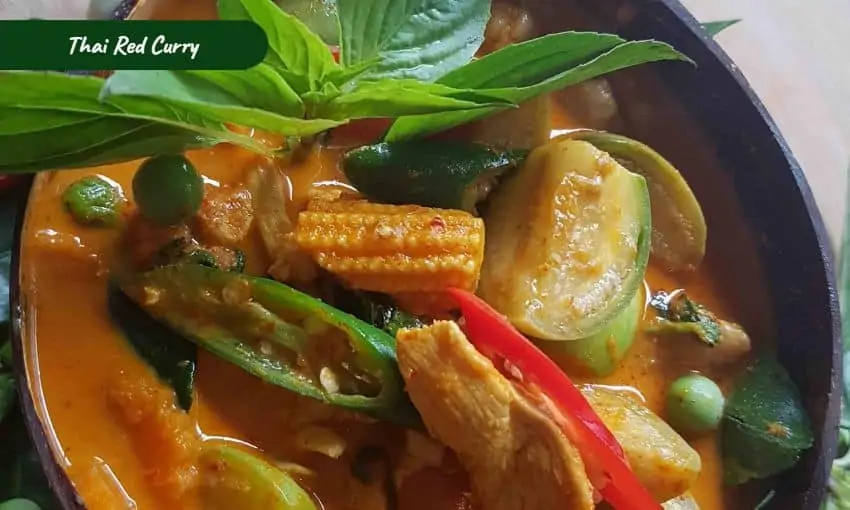 Ingredients you will need if you are taking an online class
● 2 stalks lemongrass, finely sliced
● 6 g galangal sliced
● 2 g turmeric (Curcuma)
● 44 g shallots, peeled and sliced
● 18 g garlic, peeled and sliced
● 7-10 dried red chillies, seeded and soaked to soften
● 4-6 dried red peppers, de-seeded and soaked to soften
● ½ tsp sea salt
● 1 ½ tsp coriander seeds
● 1 tsp cumin seed
● 10 black peppers
● Chicken breast cut also can use another part of chicken too or Tofu.
● Red curry paste
● Aubergine or other vegetables can be used instead
● Carrots, baby corn, long beans or other vegetables
● Kaffir lime leaves
● Sweet basil
● Red peppers or can use bell peppers
● Coconut milk and some water
● Fish sauce (Taste before you add in just in case you don't like the smell
of it)
● Salt
● Sugar/ palm sugar
● Oyster sauce/Mushroom Sauce
Equipment you will need to have for an online class
You will need either a Mortar & Pestle or a food processor
Frying pan
Knife
pan to make rice/rice cooker

How Spicy is the Thai Red Curry?
There is no limit to the number of spices that can be used to make a proper Thai red curry. If anything, spices are used in non-vegans red curries to help deodorize the strong smell from the different types of meats used, especially if the meat is something like wild boar that has a strong taste. The traditional Thai red curry paste is spicy and quite salty.
Traditional curry paste is quite salty. Additionally, the curry paste used is usually flavoured to resemble the spicy wild curry. The most important thing about Thai red curry is to include the mentioned basic ingredients. After that, you can get creative with your preferred spices. As with all of the curry dishes that I teach, I will teach you how to make your curry paste from scratch and then we shall use some of that to make the dish and the rest you can keep at home to use if you are taking an online course with me. If you are taking a course with me here in Koh Tao then you are also welcome to take some of the additional curry paste that you make with you when you finish your cooking class.