Learn How To Make Thai Green Curry
Green curry is one of the most famous Thai foods, and it means green and sweet. First and foremost, green curry receives its name from the green color, which comes from green chilies. The Thai green curry is undoubtedly a unique curry of all since it gives the soup a light green color and incredible flavor, making it stand out from the rest of the curries. When you take a cooking class, you will master the art of preparing green curry paste, which you can incorporate into your everyday diet to spice up various dishes if you want to experiment and spice up some different dishes or you can just use it when preparing your Green Curry. The whole process is pretty much straightforward, especially when you learn from an expert in Thai green curry paste like me ;p.
The history of Thai Green Curry
Green curry originates in Thailand and is made with Thai green curry paste. It was first mentioned in the early 1900s by Khun Ying Plien- a lady who did the first comprehensive cookbook of Thailand recipes. The green colour is obtained from green chilies, which were first introduced to Thailand by early Portuguese traders. The green curry paste is usually less spicy compared to the red curry. However, it is creamier, salty and sweet giving it its unique flavor.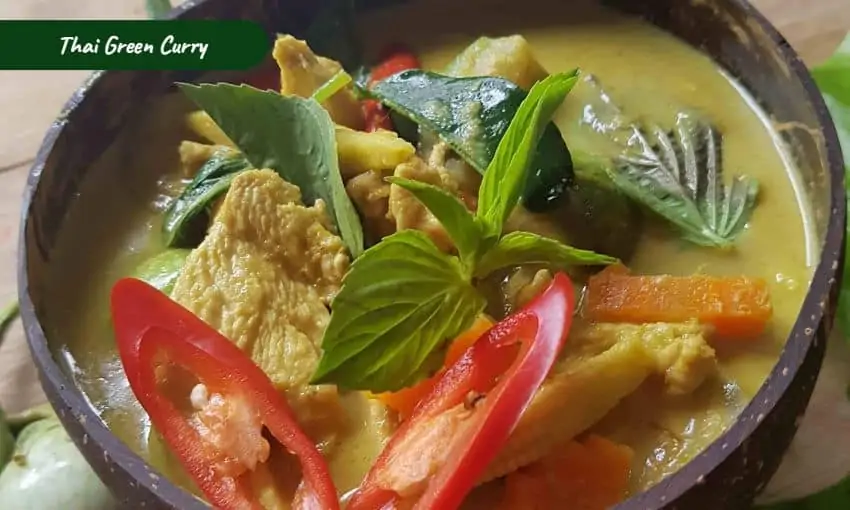 Ingredients you will need if you are taking an online class
● Lemongrass stalks, finely sliced
● Galangal sliced
● Turmeric (Curcuma)
● Shallots, peeled and sliced
● Garlic, peeled and sliced
● Thai green peppers, finely sliced
● Thai green chilies , finely sliced
● Sea salt
● Coriander seeds
● Cumin seeds
● Black peppers
● Chicken breast cut, but you can use other parts of chicken too.
● Green curry paste
● Aubergine or some other vegetables
● Carrots, baby corn, long beans or you can also use other
vegetables
● Kaffir lime leaves
● Sweet basil
● Red peppers or bell peppers
● Coconut milk and some water
● Fish sauce (Taste before you add, just in case you don't like the
taste of it)
● Salt
● Sugar/ palm sugar
● Oyster sauce
Origin of Green Curry
What are the common ingredients of green curry?

This dish can be served as a soup or on rice. Green chilies are the main ingredient in preparing green curry; therefore, you can never prepare one without it. With that in mind, here are the common ingredients of green curry;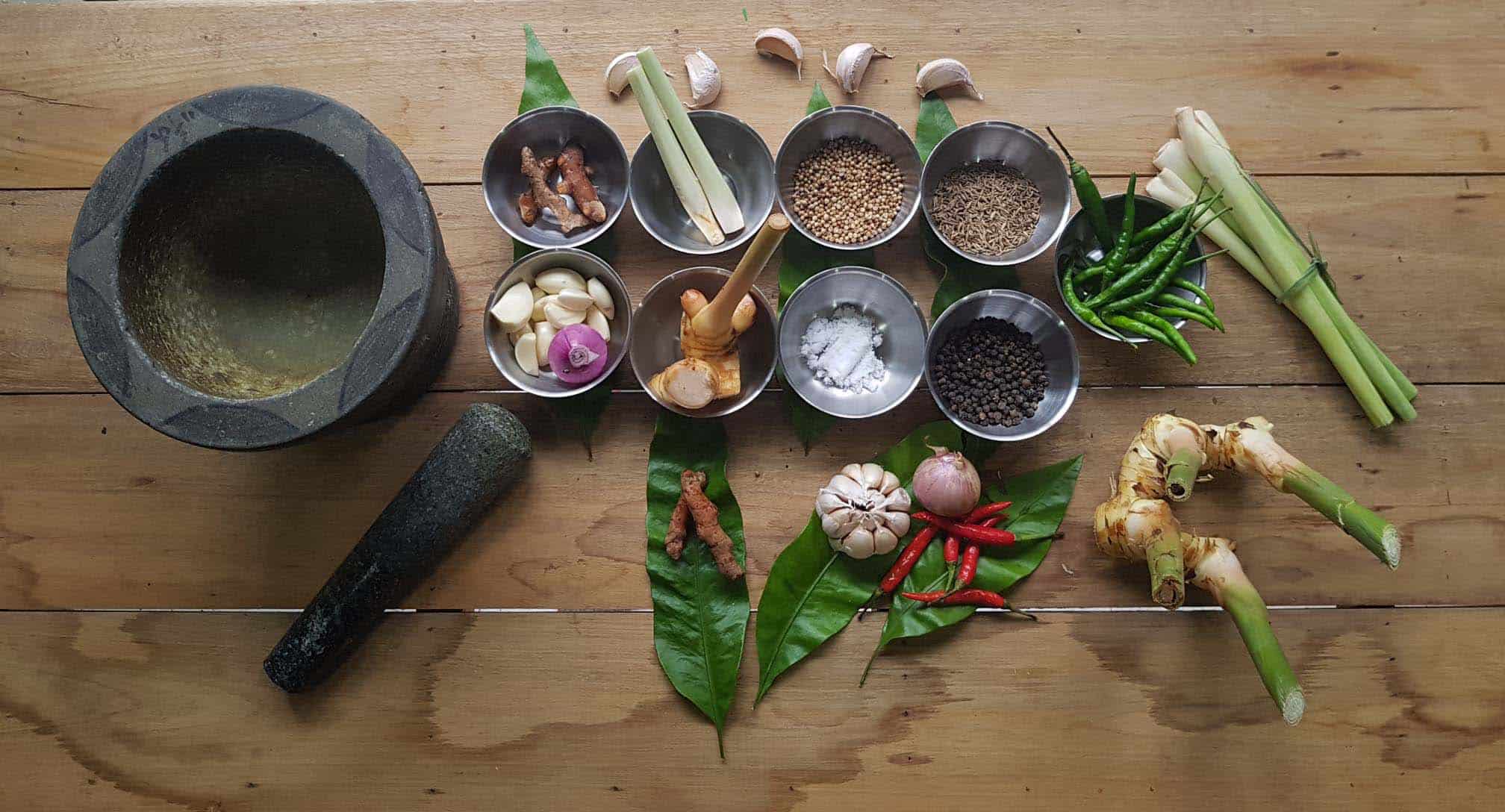 Coconut milk
Green chilies
Galangal
Kaffir lime leaves
Lemongrass
Cilantro roots/coriander
Shrimp paste
White peppercorns
Salt
Shallots
Garlic
With the above ingredients, you prepare an authentic green curry with the utmost ease. Preparing the Thai green curry paste is easy, and its taste is outstanding; this is why it is one of the most common Thai dishes around the world.
Thai green curry is ideal for vegans and vegetarians

Thai green curry is 100% vegan and vegetarian-friendly and you often find vegan Thai green curry on restaurant menus around Thailand. By going through its ingredients, you can see that the vegan Thai green curry paste is made from plant-based ingredients making it safe for vegans and vegetarians. While it might be a vegan product, Thai green curry is undoubtedly full of flavor. If you love preparing your meal with spices, you will need to give Thai green curry paste a try, and I promise you will not be disappointed.
Is Thai green curry healthy?
Yes, Thai green curry is undoubtedly healthy. In addition to its top-notch flavor, green curry paste is a great source of an array of essential nutrients, vitamins and minerals. Furthermore, it is fibre rich which will help you to remain full for an extended period and improve your digestive system. However, Thai green curry is quite high in calories; therefore, so bear this in mind before you start eating Green Curry for every meal.
Final words
Thai cuisine is, without a doubt, one of the best in the world, and their Thai green curry paste is no different. This dish is full of incredible flavor and healthy at the same time. I will show you how to make your own green curry paste and this can be stored for later use as usually we will make more than we need for a single meal.