Sai Ua Northern style Thai Spicy Sausage
Northern Thai sausage, Sai Ua, is an aromatic delicacy popular in northern Thailand. It is made with a combination of herbs and spices such as lemongrass, galangal, kaffir lime leaves, turmeric, garlic, shallots, and cilantro, resulting in a unique flavour. The sausage is usually grilled and served with sticky rice and a variety of accompaniments such as chilli, ginger and nam prik. Sai Ua is also wrapped in pandan leaves, giving it a distinctive flavour and scent. This delicacy is a favourite among locals and tourists alike. It is a must-try dish for anyone visiting the northern region of Thailand and is sure to add a unique taste to any meal.
The history of Northern Thai Sausage, Sai Ua
Sai Ua is a Spicy Thai sausage also sometimes referred to as Chiang Mai sausage. You can find it not just in Chiang Mai, but also in neighbouring Burma and throughout the rest of northern Thailand. Thai spicy sausage is a popular food in all of the Northern Thai provinces, the origin of this food is believed to be Laos or Burma. As a young girl growing up in Kalasin in Northern Thailand not far from the Lao border this seems quite plausible to me. It was always a favourite treat of mine that my dad would bring home from a popular street stall at the local market.
The word 'ua" typically means to fill or insert the middle, while the sai means the intestines. So together, "sai ua" quite literally means stuffing the intestines. The stuffing that is used can vary slightly but usually includes Thai herbs, minced pork, and often chilli in the mixture as this is Thailand! Thai sausage is usually made with minced pork deliciously mixed with different ingredients that make it packed with the best flavour and it also gives off an exceptional scent when being cooked usually on a bbq grill. The process of making the sausage stuffing is pretty simple. It is just a case of mixing all ingredients and then stuffing them into the intestines or you can also use synthetic sausage casings and then grill the sausages. Many Thais prefer drying and fermenting to add even more exceptional flavour to their sausages, the exact processes vary throughout the region. These sausages are often eaten for breakfast or as a snack. You will often find these sausage links being grilled over mobile charcoal barbeques on streetcars in towns all around Thailand. Sai Ua sausages are loved by people all over as the unique spicy flavour that comes from galangal, chopped lemongrass, kaffir line, red curry paste, and coriander is unlike any other sausage you will find anywhere else.
Good options to pick to make with Sai Ua
One of the ingredients we use when making Sai Ua is Red Curry paste and so it would make sense to also learn how to make Thai Red curry as when we make that dish you will learn how to make red curry paste too.
We also use Red curry paste in No Name, which is a dish especially popular down on the southern islands in the Gulf of Thailand. This is usually served as a starter or side dish and is usually made as a vegetable dish, but can also be made with chicken, prawns or squid.
As Sai Ua is a sausage and is eaten as a snack or side dish then other dishes that don't include red curry paste can also be made with it.
Sai Ua - Northern Thai Spicy Sausage
Thai sausage is usually moist, and full of the best flavours, with appropriate pork-to-fat ratios. Traditionally it is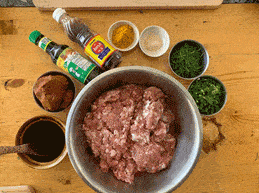 served sliced at a slight angle and then served on a banana leaf. It is can be eaten with sticky rice or as other dishes with a meal or can be served as a starter or snack. The texture of this sausage is typically fine as are the spices and herbs used in it.

You will find these sausages at the markets around Chiang Mai. Usually, they will be made up in coils many feet long, ready to get eaten. You can get these popular delicious Thai sausages in Chang Phueak, Warorot Market and pretty much every other local market in the neighbourhoods of Chiang Mai and virtually every other town and city you name to mention in Thailand, especially in the north. If you are looking to buy these sausages to take home and cook yourself you are sure to be able to find sellers in the market usually offering these sausages for somewhere around 300 baht per kg.
Can you make a Vegetarian or Vegan Thai Sausage?
This sausage like any other can be made as a vegetarian or vegan-friendly option by substituting the pork mince and it can then be stored uncooked in the freezer for up to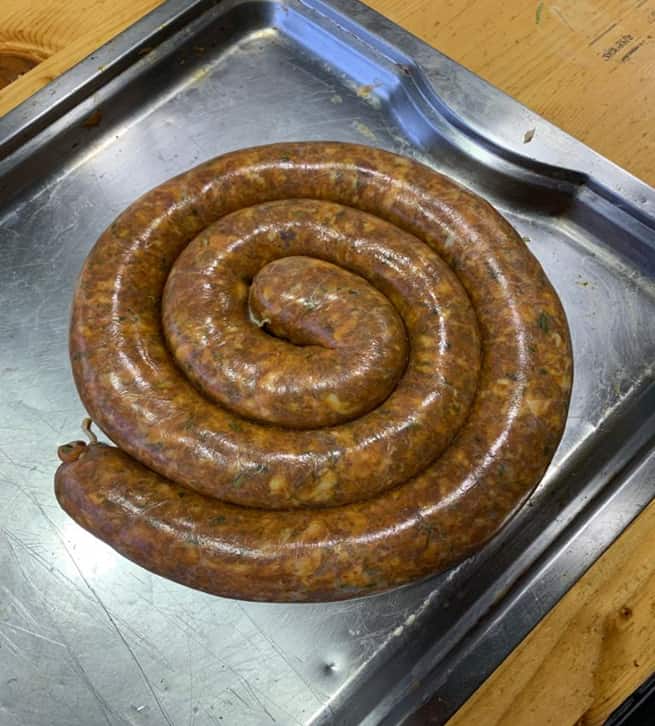 around 90 days. The best Thai sausage should not break apart or be too dry when it is cooked.
If you want to make these sausages whilst on a cooking class with me here in Koh Tao then ensure that you book a couple of days in advance so I can ensure that I have everything that we'll need. Here I also make other sausages in my home that I sell to restaurants on the island, so I have all of the sausage-making equipment and I will show you how to hold the casing in place and how to fill them with the sausage mixture. If you wish to make vegan or vegetarian-friendly sausages then please ensure you book in with at least one week of notice as I have to order the synthetic sausage casings from the mainland.
If you are taking a virtual online cooking class with me then if you don't have all the usual sausage-making equipment there are some makeshift tools that you can use which many people already have in their kitchens that I will tell you about when we are planning your online Thai cooking class.

So if you have already taken a Thai cooking class elsewhere in Thailand and have learnt how to make some of the famous dishes like Pad Thai, Spring rolls and Green curry and want to try something a bit different then why not learn to make something a little more unusual but equally as tasty and try this Thai sausage. If you are going to book online for a class I always get people to message me first to arrange a time and date for the class and give you the list of ingredients that you need to ensure that you can source everything in advance.
PS: If you like fusion food these sausages will also work well as pizza toppings and with fried rice, etc.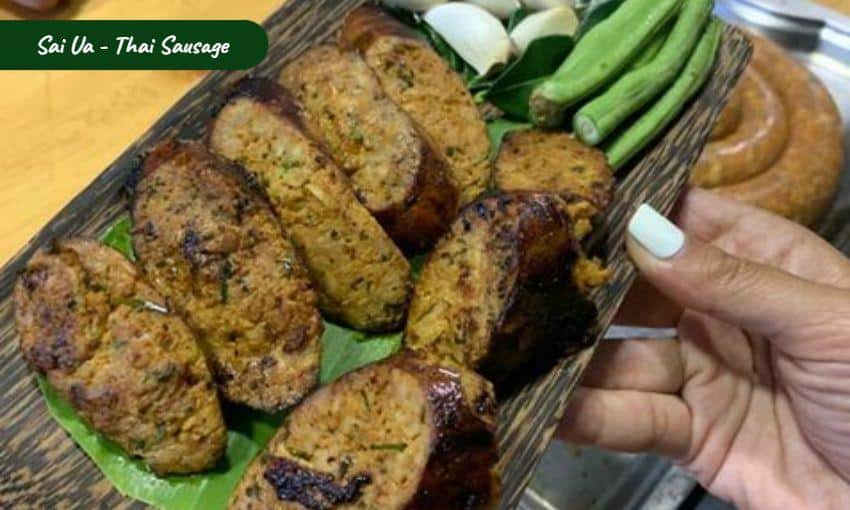 Ingredients you will need if you are taking an online class
●Minced pork with fat
● Red curry paste (don't be afraid of the chilli as after cooking the spice level does drop)
● Chopped fresh coriander (adjust to taste)
● Chopped spring onion (adjust to taste)
● Finely chopped kaffir lime leaves (adjust to taste)
● Turmeric powder
● White or brown sugar
● Light soy sauce
● Fish sauce
● Oyster sauce
● Pork seasoning (if you can not find pork seasoning, this can be substituted with extra oyster sauce)
● Galangal
● Intestines (hog intestine casings are the usual option, but you can also use synthetic casings)
● Shallots
● Turmeric
● Garlic
● Galangal
● Cilantro/Coriander
● Lemon Grass
● Kaffir Lime Leaves
Unless you already have sausage-making equipment at home, then this dish isn't suitable for an online class as you will need specialist equipment to fill the sausage casings.
Joomla Gallery makes it better. Balbooa.com