Learn How To Make Thai No Name Vegetables
A dish that is usually served as a vegetarian option and this delicacy is very popular in Thailand. T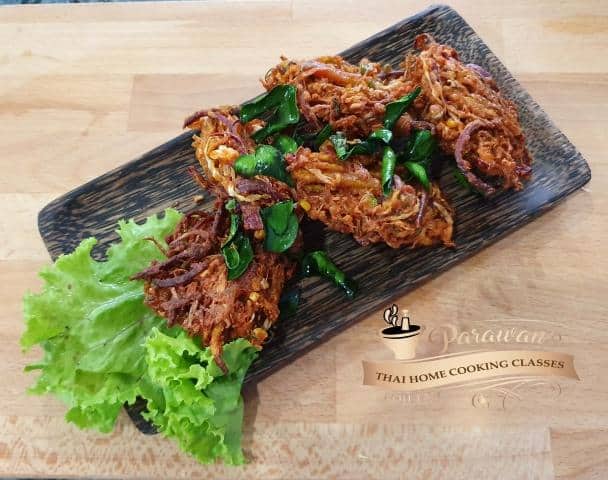 he snack is made with little vegetable fritters and it has no specific name just as it sounds. It is similar in origin to other great popular dishes from other parts of the world like bubble-and-squeak or a pakora. Hardly found in any eateries outside of Thailand, this vegetarian dish is a delicious treat for many Western tourists who are visiting the country. Normally, the snack is served with some tomatoes, lettuce, and sweet chilli sauce. It can also be served with a curry paste typically the Panang curry paste or spicier red curry paste. When I teach how to make No Name in my cooking classes, providing the people taking the course don't mind a bit of spice I include the curry past in the process of making the fitters themselves by adding it to the vegetables before they are cooked.
This dish is called No Name apparently because it was made in times of poverty out of whatever scraps were around the kitchen. The dish was never given a name because it was made out of necessity and no one expected this to appear on a menu in a restaurant. Parawan's Thai home cooking class suggests some popular ingredients to use, but you can experiment with any scraps you have at hand. They also work as well with minced meat like pork or chicken and there is a more sophisticated version that can be made with prawns.
What No Name Vegetable Tastes Like
For those who have never tried no name vegetables before, you might be wondering what this quick vegetarian snack tastes like. Well, it offers that distinctive Thai balance of flavours that perfectly brings four different kinds of tastes(i.e sweetness, saltiness, a bit of sourness, and spiciness) together. Just like other special Asian delicacies such as chicken tempura or vegetable tempura, its taste is delicately complex but out of this world.
The origin of No Name Vegetable
No name vegetable has an interesting origin. The dish was invented by Thais during times of poverty when citizens struggled to make ends meet and food was so scarce a commodity that people could barely survive on scraps. Consequently, it was invented out of scraps. The dish was never given a name since it was invented accidentally out of necessity. At that time, no one knew that the delicacy would become so popular a few decades later that it would be served as a snack in major eateries across the country. It probably gained popularity when American soldiers on leave from the Vietnam War who were visiting Thailand discovered and fell in love with it. They would go around asking to be served a "special no name vegetable." That's how the delicacy came to be known by this name.
No-name vegetable is not only a great way to add vegetables to your family's diet, but also a great way to use up food leftovers that may otherwise end up in the dustbin. This vegetarian delicacy tastes superb with a distinctive combination of four different tastes as highlighted above. Though listed above are the ingredients typically used for it, you are pretty much at liberty to experiment with any food scraps you have at hand. This is one of the most versatile recipes that you'll find in Thai cuisine. This dish works well as a side dish with a meal and is an ideal finger food or party snack.
To learn how to make it and experiment with any food scraps you have at your disposal, be sure to sign up for a cooking class with me. You can use the button below to check the availability on my group private and online classes. So, what are you waiting for? Enrol today!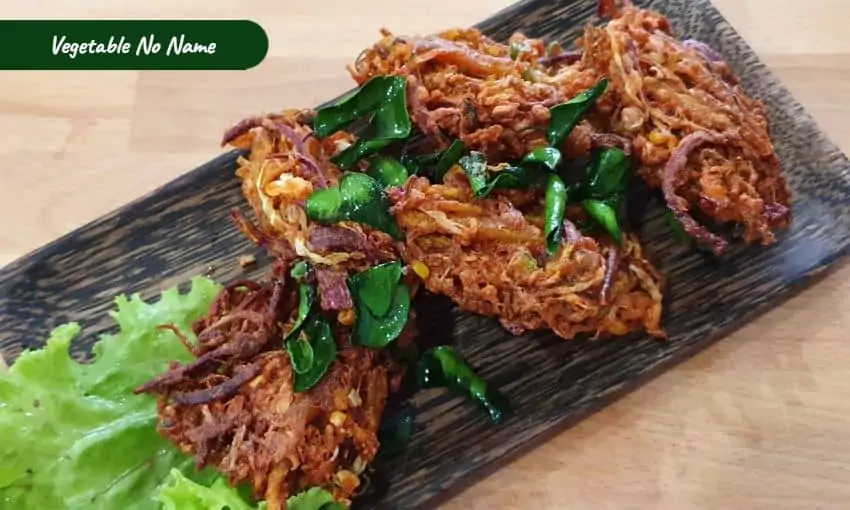 Ingredients you will need if you are taking an online class
● Vegetables chopped in the pictures …plus more of your choice.
● Curry paste (red curry or Panang curry paste)
● Eggs
● Rice flour
● Tempura flour
● Cold water (only add if the mixture is too dry)
● Sugar
● Salt
● Black pepper
● Cooking Oil
Joomla Gallery makes it better. Balbooa.com