Chicken Satay or Sate sticks are a very popular starter option.
Packed with the flavours of Thailand, these Thai Chicken skewers with a spicey Thai satay dipping sauce are simple, healthy, and quick to make, and always popular with kids and grown-
ups alike.
Thai chicken skewers with Thai satay peanut sauce is one of the most recognized cuisines in the world and rightly so. They work brilliantly as an appetizer, side dish, or finger food for parties. Satay is also sometimes spelled Sate, Satai, or Satti and in Thailand, you may see Satay Gai listed on a menu as gai is the Thai word for chicken.
Chicken satay refers to chicken pieces that are marinated, skewed, grilled, and served with a peanut sauce. It is sumptuous, juicy and any other positive adjective that you can think of.
The history of Chicken Satay Sticks
With the popularity that this meal now has, it is very hard to figure out its origin since everybody (who can) is claiming to be the pioneers. However, history has it that satay is an influence of the Indonesian, Malaysian, and Thai people.
Today, the Thai chicken satay's recipe has spread all over the world as more people continue to enjoy this wonderful meal.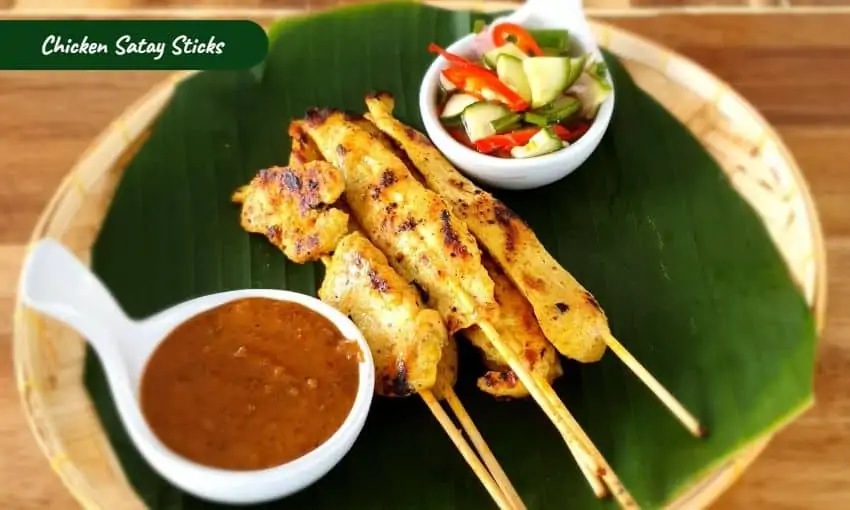 Ingredients you will need if you are taking an online class
Peanut sauce
Red chili paste
Peanuts
Coconut milk
Garlic
Turmeric
Red curry paste
What Does Chicken Satay Taste Like?
A well-cooked Thai chicken skewer has an amazing and juicy taste. When you dip the cooked chicken into the satay sauce that is exploding with multi-dimensional peanut flavor, the feeling is heavenly.
However, the taste of Thai chicken satay depends on the spices used both in its cooking and its marination. Either way, a standard satay gai is usually mouth-watering for anybody, unless of course, they don't eat chicken.
The spiciness of the meal depends on the ingredients used. You can of course get creative with this meal as long as you stick to using the recognized basic ingredients, you can add in additional chili to satisfy your spice desires.
Where is Thai Chicken Satay Most Common?
Right now, the recipe for the Thai peanut satay can be accessed by anyone in the world. This means that the cuisine has gone global and more people are trying it every day.
This meal is very popular now in Indonesia and it is recognized as a national dish by the natives. Thailand is another country where chicken satay is readily available throughout the country often served on street stalls at the side of the road with other grilled meat snacks.
Is the Thai Chicken Satay Vegan-friendly?
Yes, this meal is suitable for both vegans and non-vegans. The meal's main ingredient is chicken, however, there are alternatives that can be used to make it vegan and vegetarian friendly. For instance, you can cook this meal using purely vegetables and tofu. If you are making this dish as a vegan option, then there are ingredients that you can leave out or substitute which I will show you when you make this dish either at my cooking class or during an online virtual cooking class. This dish does include peanuts and so it is not suitable for people with nut allergies.